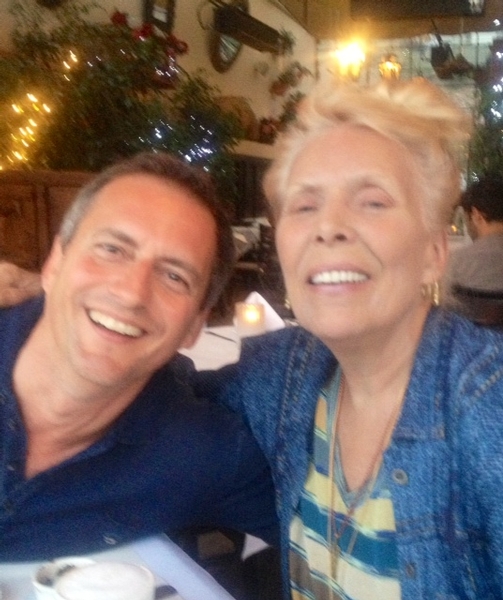 Read the ongoing blog as originally published at the Alberta Ballet site.

This year marks the 70th birthday of legendary Alberta born artist Joni Mitchell. This very special birthday will be celebrated extensively across the country on stage, television, film and on the radio. It will be a year to evoke, to re-discover and to celebrate her monumental artistic legacy.

Toronto's international Luminato festival was the first one out the gate this past June with two sold out tribute concerts held at Massey Hall which the Toronto Star described as an event that created "mass euphoria" and as "one of the most significant cultural events in Toronto's history".

This national recognition is of course highly justified for this extraordinary and internationally acclaimed multi-disciplinary artist. Alberta Ballet could not be more proud to end these year-long celebrations by offering our audience the unique occasion to witness the world premiere of her latest creation, a brand new ballet featuring her acclaimed compositions inspired by love, all personally selected and sequenced by Joni herself.

This was a very challenging task for which she dedicated the past 7 months of her life.

"It is so difficult for me to assemble a multi faceted portrait of love into one ballet... But I will do the best I can with the material I have." Quite frankly when she suggested a ballet on Love I immediately asked myself: "But who has written more profound songs on love and relationships than Joni Mitchell?" and so luckily the "material" at her disposal is some of the finest in song writing history.

The Fiddle & The DrumFollowing our internationally acclaimed 2007 mega-hit ballet The Fiddle and The Drum, Joni and I had always wanted to create a second ballet together. As Joni said: "with The Fiddle and The Drum we already created our war ballet and so this time let's be inspired by its extreme opposite, Love, a theme for which I have written more about than any other - Especially what can go wrong with it..."

Looking at our world today, with its ongoing aggressions, its intolerance and its suffering I could not agree more; indeed a ballet inspired by her love songs could stimulate us to re-think about what is most important. Our neurotic contemporary lifestyle is craving for guidance on how to re-connect as human beings, especially in this cold technological world that seems to be disregarding that fragile thread which connects us spiritually: The act of loving well.

Joni will create the libretto, the set designs and the soundtrack for this ballet. It will be a poignant reminiscence as well as a deep and personal reflection on her entire career as a composer, a poet, a philosopher and a visual artist.

She has written so much on Love that the task of selecting the compositions that would serve as a soundtrack for a coherent narrative for this ballet transformed into one of the most challenging undertakings of her life. Once she started the exhaustive search for the appropriate themes and songs she realized that creating a love story would have been infinitely easier that creating a ballet that speaks about the act of Love.

How does one describe it? How does one capture in 80 minutes of music what took a lifetime to paint, to compose and to write about? Which elements do you discard? How do you avoid the pitfalls of nostalgia and the highly emotional remembrances of past relationships, triumphant or tragic?

A meditation on the theme of Love opened up so many possibilities and pathways of thought that at first we were unable to edit the 150 song list down to less than 42 different compositions. We even believed that we would have to create two full length ballets!

Just thinking about the infinite permutations of love contained in her masterful catalogue creates a mind numbing sensation. We found many weighty compositions that speak of smitten love, of joyous love or of the battering or perversion of love. Her music often reflects on the concepts of surrender, of possessive coupling, of family love and of friendship. She sings about lust, about sexual fulfillment, about mature or immature love. She speaks about desire and abandonment, of longing, of empathy and of loss. She wrote exquisite hymns on innocence and impermanence.

Of course we chatted about divorce and litigation, about oppressive love, the constant give and take, about kindness and loyalty and the importance of staying onside - in sickness and in health. We considered how one walks away from love with honour. She mentioned the awesome Zen-like pleasures one can relish by loving the simplest things in life such as the love of place or the passing seasons (what she described as "organic patriotism").

Of course we talked at great lengths about the phenomenon of seduction, of the powerful metaphors inspired by the act of love and of its infinite array of symbols (which only Joni Mitchell could associate with love) such as a bridge, Ferris wheels, autumn leaves, passing trains, cafes, prairie winters, Wayne Gretzky (of course we had to include the great Canadian love for hockey), figure skaters, parks and dancing girls, dance halls and negro burlesque, neon lights, white picket fences and even wolves. She described seeing wedding gowns spinning in a winter storm (Hejira) , of the many facets of love beautifully portrayed in the recent film Anna Karenina, of making love in the rain, of understanding and forgiving, of "giving oneself away" and then of having to "find oneself again".

We chatted about what it was like to discover love in small towns and how she use to kiss romantically in the back of a car with her math teacher's son...

She wanted to depict how important it is to begin a loving relationship intelligently and what the seeds of breakup could be. She though it significant that we confront the notion that pure love gives in to cynicism and that this was the fate which all great romantics faced. Then she spoke of individuals who seem to have never really loved - How is it that some truly believe they must suffer this austere destiny? We chatted about all the great love stories that we knew and why it is that in all great love stories either the love or the lovers must die.

We shared our ideas on what is intense love and we tried to picture in our minds what was the most touching kiss we ever saw (she thinks the most beautiful Hollywood kiss she ever saw was in the film Keys to the City starring Clarke Gable and Loretta Young).

The conclusion we came to was that "love is most precious and so what are YOU going to do with it?"

Joni also expressed her wish that this ballet could serve as a road map for those who are trying to "return to oneself after the injuries of love" and that we needed to remember that love illuminates more than any other human experience.

Then we talked at length about what happens in a loveless world. We reflected on what transforms a person who "fails to love" into a dark force or on a bigger scale the unloving and violent outcomes of the militarization of an entire civilization.

The philosophical aspects were part of these rich and creative chats as well. We covered Buddhism as well as other religion's advice (To Love One Another). We agreed that a complete absence of love creates atrocities and so we reflected on how we must rise above the petty irritations in any relationship in order to be tolerant of each other and to counter the destructive and divisive fears that stem form the "they" and the "we" attitude.

These discussions, which lasted 10 to 12 hours a day for an entire week, transformed our theatrical concept into a journey from darkness to light. The luxuriant harvest of healthy loving and well-wishing became our main source of musing.

We also danced a lot.

Joni Mitchell's music has a black groove; it is sophisticated and possesses lush and gloriously sensuous rhythms. To understand them fully she encouraged me to get up and dance with her and I must say this was a truly mind expanding experience and loads of great fun.

In rehearsals for The Fiddle & The Drum

Finally, after all was said and done, we decided to focus on a narrative that would feature all of these aspects of human relations but would also anchor its reflections on this most important component: How do we keep believing in love, in each other?

Watching her finalize the song selection and its very challenging sequencing was one of those rare moments in my life where I had the privilege of observing a true master at work. As the days went by the "play" as she calls it, began to emerge and the soundtrack took on its full force and beauty. It was like watching a master sculptor carve a stunning masterpiece out of marble.

This magnificent selection of songs will also feature such greats as Herbie Hancock, James Taylor, Wayne Shorter and the London Philharmonic Orchestra. It will highlight many of her most acclaimed compositions in jazz, latin, blues and folk spanning her entire musical odyssey. As she said to me after listening to it for the first time in its entirety: "Jean this is so luscious!" and indeed I had to agree.

How humbled I am to be choreographing a new ballet in collaboration with a living legend to a set of songs that has set the standard for the past 50 years. How fortuitous we are at Alberta Ballet to be creating this new production which, in its essence, will become a personal reminiscence by this great artist on her life and her art. How blessed we all are to be bear witness to the latest creative outpouring of such a profound communicator.

Happy 70th Birthday Joni!

May your inspired guidance transform all of us into a People of Heart and Mind so that we may finally be equipped to"come in from the cold".