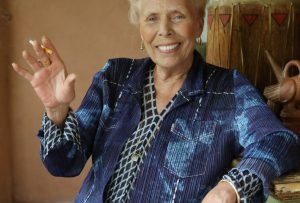 Here are 16 amazing things we have come to learn about Canadian singer-songwriter Joni Mitchell.

Canadian singer-songwriter Joni Mitchell, who is making a rare public appearance in Toronto on June 18 and 19 as part of the Luminato Festival's tribute to her, gave a revealing interview to the Star's Richard Ouzounian at her Bel Air, Calif., home last week.

The woman who wrote "The Circle Game," "Both Sides Now," and dozens of other songs that helped define a generation, turns 70 later this year.

Here are 16 amazing things about Mitchell from Ouzounian's interview.

1. She lives in seclusion in her sprawling villa nestled on a hill in Bel Air, Calif. "Yes, you can call me a recluse," she said. "But I like living alone."

2. Mitchell doesn't sing any more but retains that husky voice and the same gentle power of her glory days.

3. Colour was her first love, but Russian composer Rachmaninoff made a musician out of her. "It spoke to me."

4. As a child, she was stricken with polio and she was put in a hospital ward and was terrified most by the children "who were forced to live inside the iron lung."

5. She recovered from polio, but her parents didn't mollycoddle her. "I had to become a warrior."

6. She has been a non-stop smoker since she was 9.

7. The first musical instruments she learned were the piano and ukulele before she graduated to guitar.

8. Around 1964, she lost her virginity to a local boy in Saskatchewan and became pregnant.

9. After becoming pregnant, she moved to Toronto and gave the child up for adoption.

10. The only child of Bill and Myrtle Anderson, she married fellow musician Chuck Mitchell and took his name. The marriage lasted two years.

11. In 1997, she was reunited with her long-lost daughter Kilauren Gibb after medical and adoption records linked them up, but the relationship disintegrated into rancour and violence.

12. At the age of 28, she had an identity crisis and withdrew to a little stone house in British Columbia, hid from the public and bought every psychology book she could find, including Jung and Freud.

13. One book stood out for her: Beethoven: His Spiritual Development published in 1927. "It was all about his struggles and self-doubts."

14. In recent years, she has struggled with Morgellons syndrome, a parasitic infestation that most doctors claim is delusional. It's marked by painful skin lesions and general weakening of the immune system. "Western medicine says this doesn't even exist, it's a psychotic disease. It's not."

15. She is not afraid of confronting death. She's had a lot of things die in her arms, including her cats.

16. One of her cats was named Nietzsche. He died like a twisted pretzel, so she shaped his body back to normal before rigor mortis set in.