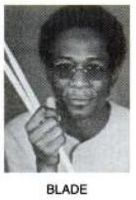 Drummer's Fellowship, On Blue Note, Offers Melodies & Optimism
---
TOGETHER AS ONE: With its emphasis on cooperation and mutual expression, jazz inherently holds the idealistic promise of drawing people together and creating harmony in the world through music.

Brian Blade understands this possibility. The drummer's seven-piece ensemble, the Brian Blade Fellowship, carries with it a message of hope and togetherness, conveyed through uplifting melodies and preternaturally sympathetic group interaction. It is a message that they are, almost remarkably, able to translate through largely instrumental compositions.

"If there are any difficulties in what we are doing, [getting the messages across] may be one of them," says Blade. "In the end, you want people to be left with the joy that comes across in the music."

A native of Shreveport, La, the 29 year-old Blade began playing drums in his father's church at the age of 13. His résumé includes stints with Joshua Redman, Kenny Garett, and McCoy Tyner; he has recorded and toured with Joni Mitchell and has performed in Seal's band. In 1998 Blade released the Fellowship's eponymous debut, a sprawling, ethereal work produced by Daniel Lanois, known for his atmospheric production work with Bob Dylan and U2.

Both Lanois and Mitchell turn up on PERCEPTUAL (Blue Note, April 11), the sophomore release from the Brian Blade Fellowship, which is made up of Blade, saxophonists, Myron Walden and Melvin Butler, pianist Jon Cowherd, pedal steel guitarist Dave Easley, guitarist Kurt Rosenwinkel, and bassist Christopher Thomas. Although Lanois appears solely as a guitarist (Blade and Cowherd co-produced), PERCEPTUAL builds upon the richly textured landscapes of the group's debut.

In addition, the album furthers the Fellowship's themes of family, friendship, and unity. "There is emotion in the melodies and harmonies that represent the musicians in the band," explains Blade. "It tells the story of who I am, who the band members are, of the experiences we have had in our lives, both individually and collectively, and of the things that happen in the world at large that affect all of us."

The theme of unity is felt strongly on Variations Of A Bloodline, a three-part suite inspired by inter-ethnic animosity and unnecessary human suffering. "What it all comes down to is that, deep down, we are all the same," says Blade. "People fight over territory, or over beliefs, and they forget that we all come from the same place, from the same blood. The idea is that people should stop quarreling and remember that we are all brothers."

The feeling of a bond between people is reiterated on Steadfast, which features Mitchell's haunting refrain of "Can you hear the baby crying from the other room." According to Blade, "the other room" can refer to an adjacent space or just as easily to another country.

"There are tragic things going on in the world, like kids running around with guns," he says, explaining that events both local and global ultimately have an impact upon everyone. "This song is meant to convey a sense of holding on, of optimism and hope that things can and will get better."