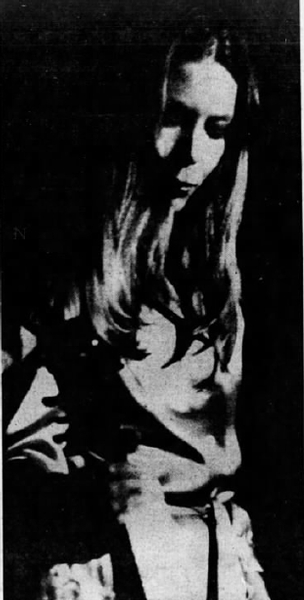 Rock concerts are a very peculiar breed of live entertainment. Where most performers are sweating to sell an attractive, professionally packaged commodity - themselves — to the public, the rock star has managed to pull a psychological twist. So great is the fame of the the big rock names, so huge the demand the for their products and presence, it frequently becomes the audience who must perform for the star for the by proving how patiently it put up with ineptitude, expense, and discomfort.
If haven't been to a big league rock happening lately, you probably don't know the performances almost always start at least an hour late, the tickets at outrageous prices are usually oversold, the sound systems are frequently out of kilter, and the performers, when they show up, are often surly, condescending or just plain rude.
The Joni Mitchell concert in Jacksonville Sunday is a case in point. Scheduled for 7:30 pm at the city Exhibition Hall, it finally got under way at 10:15, some three miles away in the Jacksonville Coliseum. The audience, under extremely trying circumstances, performed admirably. Nobody Molotov cocktailed the building, even though some had their tickets months ago, traveled hundreds of miles to see the show and were willing to wait hours in line for a good seat.
Nobody broke a window, smashed a door or even pushed in line, even though they were herded like cattle into Coliseum turnstiles and asked to sit on cold, concrete floor for their $6.
Nobody, incredible as it may seem, even booed the performer. In fact, they cheered. When she finally came on, nearly three hours late, they worshipped. When she sang, they listened with rapt silence. They cried, they smiled adoringly.
Even with an audience of Sisyphus' children, few stars other than Joni Mitchell could have pulled it off.
Balladeer-composer-musician Mitchell's songs cover the usual topics - life, love, loss. But they are not so much songs, not so much pretty poems, as intimate observations from the mind of someone who sees a lot. Her words are intensely personal, painfully honest comments about what goes on inside of her and around her. And her music is designed to invoke a mood around the worlds - full of obscure tunings and progressions, incredible slides and jumps from lower to higher register. Her voice is a musical instrument in itself, changing at a second's surprising notice from a delicate, spine-tingling soprano to bluesy blooms.
Joni Mitchell's songs are written especially for Joni Mitchell to sing. And since she doesn't do concert tours very often, seeing and hearing her in person is ecstacy for those who love her recordings. She gives her audience everything they have a right to expect - a polished, well-timed, technically perfect performance from a gracious and talented lady.
Somebody, though, should get the blame for all those tired feet and backs. It goes to Jet Set Productions and Sidney Draskin, the Jacksonville promoter of the show. The public was told the delay and location change to the larger hall was necessitated by a tremendous demand for tickets.
Patient, we may be. Stupid, we aren't. Tickets were sold out a week before the performance - plenty of time to make a well-announced change.
The real reason, according to word from backstage, was that when the performers showed up late in the afternoon and found Draskin had booked them into the seatless, warehouse-like Exhibition Hall, they refused to go on. They were told, they said, the show was to be in the Jacksonville Civic Auditorium, a 3,000-seat, theatre set up that shares a building with the hall. "We don't," said one member of the back-up band, the L.A. Express, "play in a damn ballroom." The auditorium was already booked for something else, and the Mitchell concert had to be moved across town.
Patience wears thin.