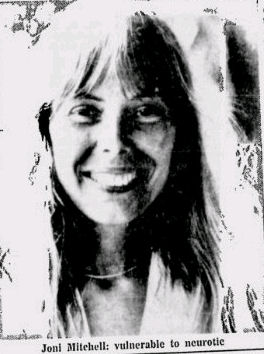 At Place des Nations
---
It looked for awhile like last night's Joni Mitchell concert at Place des Nations might not happen at all. Drenching rains yesterday afternoon left the Man and His World outdoor arena looking just like a concrete swimming pool once you put water in.
The afternoon sound check had to be cancelled as city workmen worked feverishly to sweep the water off the terrace. Roadies worked feverishly to get the sound in order as thousands of fans who waited outside the gate were informed that the 8:30 show was going to start instead at 9:30.
So 10,000 or so people waited, but when the gates were opened about 9, the rain started again. The roadies on stage were still hard at work when the announcement came that now it would be at least 10 p.m. before the music started.
But the masses waited, most of them shoved up toward the front to sit worshipfully at Joni's feet. Some time after 10, the Alberta-born Mitchell finally appeared on stage and sang maybe a half-dozen of her bigger hits, including a reported hit-to-be,
Free Woman in Paris
, then left the stage to her band.
TREMULOUS
Joni's music of late has moved from the vulnerable sounding to the neurotic, and I must confess most of her new material leaves me cold, especially when it makes it to Top 40 radio, ostensibly lively music, which Joni's tunes most definitely are not. Her voice is as tremulous as ever, a hook in itself, a voice one does not soon forget.
Backing her up on this tour is a talented, jazz-oriented group, Tom Scott and The L.A. Express.
Scott is an old recording veteran, has scored dozens of TV shows' theme music (Cade's County, etc.) and a saxophonist who met Joni about a year ago.
Now his group has its own album (on rival label A&M). The record, by a talented group of session men sounds like a record by a talented group of session men. Scott's group's music is so far in the background that CFQR could play the whole thing and no one would raise an eyebrow.
Pop singer Randy Bishop, hard on a recent hit single and one of the more knowledgeable music people around, summed up Scott's show best last night: "It sounded like a TV movie."
It's one of those groups that hits the stage, and it seems like someone has just left.