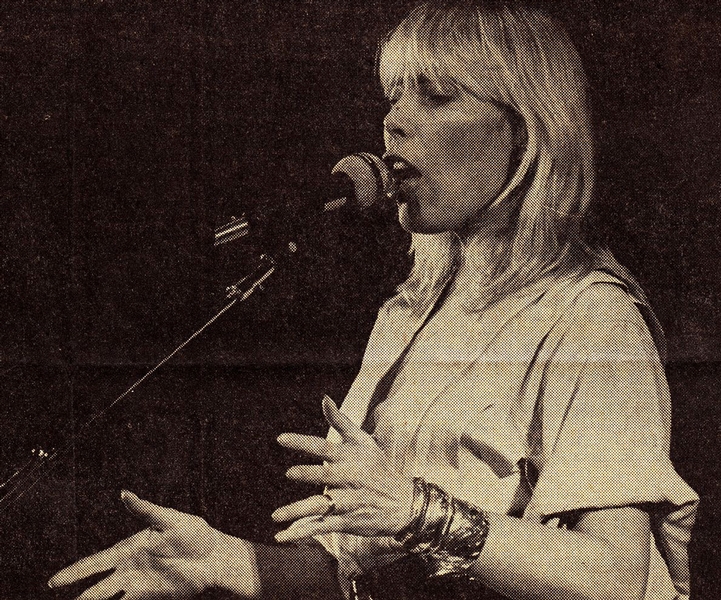 Translated from the original German text by Marion Leffler*

Canadian singer Joni Mitchell's evolvement is one of the most astonishing phenomena in the world of popular music. The times when she sang traditional folksongs accompanied by her guitar in clubs lie in undocumented darkness. She swam within the folksong movement to a position of song poets who did not bother with being authentic to the past anymore but who rather developed the inherited material and used it as a vehicle for their individual expression. She did write verse songs in the "folk" idiom - but they were the most beautiful near and far, full of well-done poetic imagery and thoughts, sometimes philosophical, sometimes cryptic, sometimes wise, sometimes in love with the mystery of her own ego, sometimes resigned, most often doubting. Her melodies were beautiful and noticeable, and the world repeated them.

However, Joni Mitchell might be the most multitalented of the younger pop music(ians). It is rare indeed to find such a demand of high quality lyrics together with such convincing creative powers of musical composition. In addition, she interprets her own product, meeting all standards of extra individual, timeless beauty - something that is truly unique. Well, a talent like that will not stand still, and the way Joni Mitchell got away from her verse songs is again unparalleled. She has created for her songs an endless structure, floating in harmonic circles in wavelike movement. When she does not work together with jazz musicians - who with their improvising add tempo and variety to those quasi modal forms - such forms could be problematic. They could wither into accidental and casual appearances.

However, the concert in the Frankfurter Alte Oper (Old Opera House) on her first tour of Germany in many years did not show much of the concerns above. Joni Mitchell provided an overview of her entire musical history and slipped in old hits like "Big yellow taxi", "Woodstock" and her first world hit "Both sides now", and she even played the Dulcimer, symbol of rural American folklore.

*Note from Marion: I am painfuly aware that some of the phrasing must sound odd to native English speakers. I tried to keep as closely to the original texts as possible, avoiding alterations of phrasing since I did not want to change meaning. Obviously the articles were written at a time when popular culture would not get a mention in the Frankfurter Allgemeine unless written in an academic style. Unfortunately, some journalists got carried away and became pretentious, in my opinion.