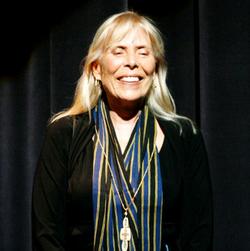 "We have a voice that is calling/Telling us to keep on hoping/For time will make this wild land great/And that's what Canada is."
— Roger Whittaker, Canada Is

A lovely sentiment. A fitting tribute.

But, with all due respect to the beloved whistling busybody, perhaps he should cram it and stick to singing about his own homeland (he says Kenya, but until he produces a birth certificate, we'll go with Hawaii . . .) or "old Durham town," and leave this land alone.

Why? It's not up to outsiders to tell us what Canada is; it's up to beer companies and doughnut manufacturers.

And as for what our voice is and what it's saying, well, that's something that's being celebrated and considered at this very moment, as the Canadian music industry convenes for the Junos (or is that the Genies? Geminis? Perhaps we could name an award with a hard consonant in it).

Ah, the Junos. This year, in a somewhat fittingly Canadian move, the annual feting of the country's sound-makers and —sellers, will use its milestone 40th anniversary (no, not the 43rd — duh) as an excuse to look back and congratulate itself on the music we have given to the rest of the world, and the music, that, for better or worse, is part of our national identity.

What voice speaks for us? Whose words and music define who we are?

Well, looking, at what's topping our Hot 100 Billboard chart this weekend, apparently that's Lady Gaga, Jennifer Lopez and Rihanna, who are espousing, in order, healthy self-esteem, dancing and sado-masochism. All positive messages for the youth of today, certainly, but nothing that's inherently Canadian (that said, on a personal note, my safe word is "Gretzky").

So, perhaps, it's best we look not at the music people are actually consuming or what's currently popular, but, like the Junos, at the past and present crop of Cancon, those musicians among the government-subsidized/approved/enforced stable of singers and songwriters, whom we rely upon to tell our stories and shape our image of who we are — to ourselves and to the rest of the world. They are our voice.

From our storied past: Lightfoot, Tyson, Young, Murray, Mitchell (Joni and Kim, both are wild parties), Cockburn — we can all agree that each of these revered artists, through their rich bodies of work, have helped to weave a tapestry of life from sea to shining sea, from pantsuit to glorious pantsuit, and from patio lantern to moth-covered patio lantern.

So, too, do the Messrs Bachman and Cummings, with their hard-rocking anthems, beautiful ballads and general politeness and cleanliness constitute what we sound like in song. (Interesting historical fact: The frequent use of the word "please" was expunged from the song American Woman because the U.S. market thought it too sissy.)

Rush? Of course. When you can become that universally famous and respected in spite of your physical appearance, that is the very dictionary definition of Canadian. We're looking at you, too, Triumph.

(Note: For brevity's sake, we'll skip most of the early '80s, because, save for the Payolas, k.d. lang, Jr. Gone Wild and a handful of others the decade was a blur of bad Spandex, terrible ballads and worse hair. But enough about Bryan Adams. Ba-dum-bum.)

Which brings us to more contemporary times where we get into more interesting and, yes, debatable territory. Perhaps it's because of how things flourished, how the outlets to hear music and to be heard grew, until anyone and everyone with a Maple Leaf sticker displayed on their guitar case like a delusional tourist's backpack overseas who thought it made them instantly less boorish and annoying (hint: it doesn't) spoke to us and for us.

For example, there is an entire generation that feels that the weed-informed ramblings of a tiny, bald man prone to manic onstage episodes are representative of we, as a nation, because there's the odd hockey reference thrown in and because of his unique form of Tourette's which manifests itself as the name checking of small Ontario towns. There are others who think a gaggle of pudgy, mildly amusing buskers hold up a mirror to us with their adorable songs about the sleeping habits of brain-damaged pop wunderkinds, Asian poultry dishes and the munchies kids can expect on coke-binges.

Others look to: Bland singers in bad Vegas revues; cheeky, roguish crooners with Brat Pack envy; country music cougars let loose in the Swiss Alps; sullen, bratty manufactured teens; safe, slick, well-coiffed teens; safe, slick well-coiffed rappers; arty, chamber pop acts who've introduced the glockenspiel into the current musical lexicon; or any hundreds of folk popsters peddling a memorable melody and a forgettable thought.

It speaks to all of us. It speaks to some of us. It speaks to none of us.

And that, perhaps, is the key and perhaps what should be celebrated as the Junos mark four decades. We are a nation as diverse as the music performed and enjoyed all over this land. It is a product of what living in this cold, clean place can produce. We are free to take ownership of it, take pride in it, search elsewhere for it and can all celebrate the aspects of it that define who we personally are.

That's something I think we can all agree on. Well, that and the immediate expatriation of Nickelback.

Because that's what Canada is.