BLUE (Reprise)
---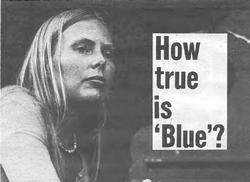 JONI MITCHELL: hard to relate
Yes, it's all here... the plangent guitar, the moody, swirling piano, the wistful, yearning songs, the beautiful blue sleeve with the brooding cult-image portrait. Everything we need for another volume of vicarious heartache.
Guess that's a pretty sour way to begin a review of what, in many ways, is Joni's most perfect album. But then her songs have come to mean so much to me over the years that my reactions to this album are hopelessly subjective and ambivalent.
The problem, I suppose, is one of empathy, Her songs are autobiographical and one's reaction to them depends to a large extent on how far one can relate to the experiences she describes. On her previous albums she has dealt with the joys and sorrows of love: the communication has been direct and often (particularly on her first album, which dealt with the aftermath of her unhappy marriage) sharply poignant.
But now, as they say, the scene changes. The success of those songs has made her a Rock Star, a member of the new elite, able to fly on a whim from Laurel Canyon to Amsterdam or Spain or the Agaean Islands. The songs here reflect the hang-ups of such an existence and, for me at least, it's hard to relate to them. There is a little pain of passion here: where once she described the nightmare of city life in
Nathan La Freneer
she now muses on the sweet dilemma of being stuck in Paris when she wants to be in California.
It's an inevitable process, and one which has already affected artists like James Taylor, Neil Young and Van Morrison. We elect our heroes because they tell us truths about life but their very success divorces them from our field of experience. We go on digging them only by becoming, in effect, vicarious Rock Stars. Showbiz is dead but its spirit lives on in the superstar syndrome.
None of it is Joni's fault, of course. Her songs continue to reflect her own reality, but where once the truths she distilled were universal, the songs here tend to be inward-looking. The slightly claustrophobic atmosphere is underlined by the cosy presence of Messrs Stephen Stills and James Taylor.
But if her lyrics are less satisfying her songs are musically (and in particular, melodically) stronger and more assured than ever. Each song seems not to have been worked out but to have been born whole and perfect and complete with shining guitar and velvety piano. The songs are concerned with the men (
All I Want, My Old Man, A Case of You
) and the places (
California
) or both (
Carey
) in her restless life and several express an underlaying theme: a love/hate relationship with the Rock milieu, voiced in these lines from
A Case of You
: "I'm frightened of the Devil and I'm drawn to those that ain't afraid." Or this from
Blue
: "Well everybody's saying that Hell's the hippest way to go/Well I don't think so but I'm going to take a look round it though." Her singing is more adventurous than ever, soaring and swooping in the space of a single syllable in a way that recalls Laura Nyro.
It is, perhaps, as a singer of exquisite, richly-contoured, beautifully singable songs, rather than anything more profound, that she now has her greatest strength. All I know is that despite everything I've said above, this album hasn't been off my turntable in five days.