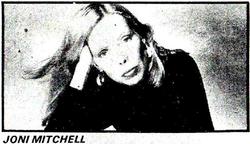 JONI MITCHELL canceled a fund-raising concert at the Los Angeles Immaculate Heart College at the last minute and asked James Taylor to stand in for her.

The reason for the cancellation was so that she could appear at another benefit concert with Bob Dylan and Roberta Flack in New York. That show was held in aid of Ruben "Hurricane" Carter, the imprisoned boxer.
Joni has promised the Immaculate Heart she will do another show for them at a later date.