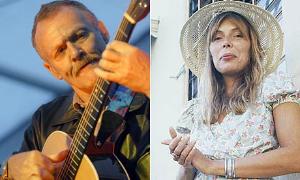 Who gets the glory? Davy Graham and Joni Mitchell. Photograph: L: Simon Hadley/Rex Features; R: Henry Diltz/Corbis
For the past year, I have been investigating Davy Graham's enlightening and entertaining back catalogue. Graham's rendition of Joni Mitchell's Both Sides Now is especially fantastic, not least because it has become, for me, the definitive version.
Mitchell herself recorded Both Sides Now on Clouds, an album now considered part of the classic Mitchell canon. The song has taken on a life of its own, being covered by Star Trek alumnus Leonard Nimoy in a bizarre reading, Harper's Bizarre (who harmonised a light-as-air soft-pop version) and even Judy Collins (who was first to release the song commercially in 1968).
A definitive cover is a hard feat, since precious few songs surpass the original. But Davy Graham's Both Sides Now has something that tells you more about him than even his signature tune, Angi.
Mitchell's version is pared down, on a straightforward acoustic tip; without the intricate harmonics that are Mitchell trademarks. She was inspired to write the song after reading Saul Bellow's novel, Henderson The Rain King, reflecting on the contrary nature of life. Graham's version really brings that idea to the forefront.
By experimenting with eastern scale and modal tunings, he was painted as a rebel on the UK folk circuit, outraging purists with his ideas. When he released the jazz-folk fusion album, Folk Roots, New Routes, accompanying Shirley Collins on guitar, he was scoffed at. At the time, he was more appreciated as a by bluesmen such as John McLaughlin and Alexis Corner, but certain folk guitarists (John Renbourn, Bert Jansch) saw him as a key influence, sitting at the vanguard of what folk music could mean.
During a trip to Tangiers, Graham discovered further possibilities for his music: grafting raga and a droning style onto a more traditional folk grounding.
Both Sides Now stands out in the Graham canon, not just as a blues song, but as blues-as-raga. It's spooky and haunting as he starts with quiet drones to underpin the melody, before breaking into raga-rock. The singer's wordless tones mimic the melody over crashing cymbals, picking out the emotion with his guitar, building anticipation with mysterious stops and starts, before breaking out into a jazz-inflected, bass-driven affair as Graham's vocal delivery reaches a fiery, emotional and uneven pitch.
Both Sides Now becomes intensely autobiographical for Graham - at the time heading towards an uneasy life - as if he'd written it himself. Its a hard trick, taking someone else's song and making it your own, but Graham achieves it. It makes my personal list of definitive cover versions - along with the Byrds' Mr Tambourine Man and Johnny Cash's Hurt. What are yours?