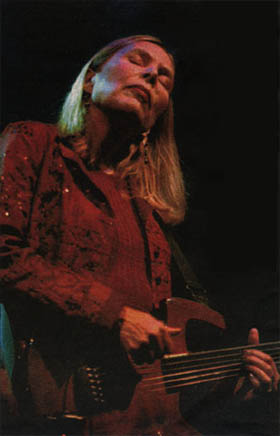 Legendary troubadours Dylan, Mitchell, Morrison share bill, but not stage, at concert celebrating singers' enduring artistry.

OK, what do you want to know most about the Bob Dylan, Joni Mitchell, Van Morrison tour, which begins a three-night Southern California engagement tonight at Pauley Pavilion?

What songs each of these legendary Rock and Roll Hall of Fame members sang before a crowd of 14,000 Tuesday night at the sold-out San Jose Arena?

How many times they stepped away from the formality of their first-time pairing to perform songs together during the four-hour affair?

Or do you want to just cut to the chase and hear who turned in the most memorable performance?

For those who want immediate answers, the choice for top honors was between the thoroughly different, yet equally absorbing sets by Dylan and Mitchell. In the moments they were on stage, the dream bill was also a dream concert.

But first, let's deal with what they sang and whether they came on stage together. The answers: no and no. No, they probably didn't do your favorite song. And, no, they didn't get together for even one number--unlike earlier in the five-city tour where Mitchell and Morrison came out in George, Wash., to back Dylan vocally on "I Shall Be Released."

Though the failure of the trio to join together was disappointing, the frustration of song selection shouldn't be very surprising to anyone who knows the history of these fiercely independent pop-rock figures.

Expecting to hear your favorite song at a Dylan or Morrison concert, especially, is akin to trying to win the lottery.

One reason the odds are against you is that the three artists have collectively written or recorded some 800 songs, and they can only cram about a dozen each in the individual hour sets.

Beyond that, these aren't the kind of artists who let their audiences--or their chart successes--tailor their concert material. Dylan only sang three of his 16 Top 50 hits Tuesday, while Mitchell sang just one of her five and Morrison none of his seven. The benefit of artists not simply replaying their hits is that it either introduces or reacquaints fans with other valuable works.

Morrison opens the concert most nights, though he switched with Dylan and closed it one of the tour's two nights in Washington and may do so again one of the two nights at Pauley.

Despite the seductiveness of Morrison's R&B-shaded musical coloring and his frequently soulful vocal asides, his set lacked both the warmth of Mitchell's and the robust punch of Dylan's. Almost everything about his set seemed constrained.

Though he is often an erratic performer, Morrison on his best nights can bring a mystical, evangelical edge to his music--touching on sexual and spiritual matters with the same raw, passionate edge.

But little about his singing, his eight-piece band or even his nice tip of the hat to Frank Sinatra--a bluesy treatment of the Chairman's 1966 hit "That's Life"--stepped away from a narrow emotional pathway. Though Morrison threw a lot of body language and bite into "That's Life," his version lacked the authority and self-affirmation of Sinatra's recording.

Mitchell, who followed Morrison, showed the raggedness of someone who is touring for the first time in more than a decade. She even had to restart two songs because of early foul-ups. And she apologized to anyone who was disappointed because she wasn't performing songs from her "Blue" to "Court and Spark" period in the '70s that established her as the most acclaimed songwriter since Dylan.

The apology wasn't needed.

The audience did seem to struggle for a while, partly because the tone of Mitchell's set was far less toe-tapping than Morrison's. Though the arrangements were exquisite, Mitchell's music--especially a song as demanding as "Slouching Towards Bethlehem," from her 1991 album "Night Ride Home"--is in a graceful, reflective style better suited to an intimate theater than a hockey arena. But the audience became enchanted by the soul-searching spirit of her music as she moved from stark romantic longing in "Amelia" to the isolation of "Hejira."

Late in the set, Mitchell did play a couple of her signature hits, "Big Yellow Taxi" (complete with a playful nod to Dylan's nasal singing style) and "Woodstock." But the heart of the set was her newer and less familiar work and it was as thrilling for her willful challenge of audience sensibilities as for its breathless craft.

Dylan and his four-piece band came out blazing, packing the opening numbers (including 1966's "Absolutely Sweet Marie" and 1997's "Cold Irons Bound") with the same spectacular rock 'n' roll energy and rejoicing that marked his series of shows last December at the El Rey Theatre in Los Angeles.

His singing had the same clarity and power of those shows, and the band seemed even more explosive--the pedal steel work adding a sirenesque ring to the upbeat tunes.

Dylan's song selection remains puzzling--not the issue of doing crowd favorites, but playing such marginal material as "Silvio" and such overused material as "Tangled Up in Blue" instead of more than just three songs from last year's Grammy-winning "Time Out of Mind" album.

As he did opening night at the El Rey, however, Dylan returned for the encore to sing "Forever Young," an especially tender message from a man whose latest album focused so stirringly on life after the optimism of youth has faded.

More than a rare chance to see three such paramount figures of modern pop music, the tour package offers a chance to share in the celebration of three artists who have sometimes fallen out of public favor as they pursued musical paths that led them away from even their core audience.

But they have persevered and shown, ultimately, that their artistry has triumphed, and it's good to see all three reunited with such a wide, appreciative audience.

Bob Dylan, Joni Mitchell and Van Morrison play tonight and Friday at Pauley Pavilion, UCLA, 7:30 p.m. $86. (310) 825-2101. Also Saturday at the Arrowhead Pond of Anaheim, 2695 E. Katella Ave., Anaheim, 7:30 p.m. $50 and $85. (714) 704-2500.