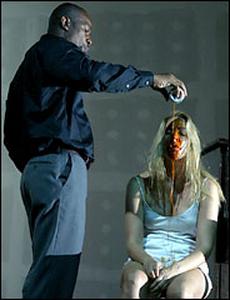 Hedda Gabler and Joni Mitchell - soul mates? Disorienting as it is, that notion may be one of the tamest in Ivo van Hove's strange and strangely enthralling new production of Henrik Ibsen's much-mounted drama about a dangerously frustrated housewife. The arrival of this refreshingly daring revival, which opened last night Off Broadway at New York Theater Workshop, instantly slips the fall theater season into a higher gear.

Mr. van Hove will be known to the city's theater fans as the ornery Flemish director who had the temerity to stage a beloved American classic, "A Streetcar Named Desire,' in and around a bathtub a few years back. The meager rewards didn't justify the liberties taken. But that is assuredly not the case here. Mr. van Hove's remarkable "Hedda Gabler,' which also includes such peculiarities as a can of tomato juice used as a weapon of mass humiliation, and a finale staged almost entirely in darkness, does not necessarily illuminate the play as a dramatic text. That can be left to traditionalists. Mr. van Hove's sights are set considerably higher: he is an artist seeking, as Ibsen once did, to illuminate the world around him.

The production designer Jan Versweyveld, Mr. van Hove's longtime collaborator, has turned the New York Theater Workshop, already one of this city's most funky and inviting theatrical spaces, into a spectacular one. The steeply raked seats float in the middle of a stage that wraps around the audience. Unpainted cliffs of drywall soar nearly to the top of the auditorium. A few chipped and worn pieces of furniture, seemingly collected from an East Village thrift shop, are strewn across the vast stage. Cabinets, casually marked with tape, symbolize the kitchen, the coat room, the attic.

This is not a reasonable representation of the handsome, expensively appointed home spoken of more than once during the play, the dubious prize Hedda Gabler has won for selling herself into bourgeois domesticity as the wife of the dull but respectable scholar George Tesman. Mr. van Hove is more interested in psychological essences than literal contexts, as was Ibsen, particularly in his later, more abstract plays, which this production interestingly evokes. Mr. Versweyveld's empty, echoing space represents an interior landscape: the cold, underpopulated expanses of Hedda's mind, a place with more capacity than she knows what to do with.

Elizabeth Marvel, previously Mr. van Hove's bathing Blanche, plays the title character, who is center stage as the audience enters, casually worrying a few notes at the piano. She will remain onstage virtually throughout the play - it's impossible to escape your own thoughts, after all. The play describes, among other things, the drama of an agile mind given too little rein to flex its muscles, gradually corrupted by idleness and frustration. In a performance that marks a major achievement for the adventurous Ms. Marvel, she evokes this process with captivating clarity, tracing the disjointed trajectory of an intellect devouring itself.

The manifestations of Hedda's intelligence, in its healthier stages, have an unmistakably contemporary ring: Ms. Marvel uses the deeper recesses of her voice to bring deader-than-deadpan inflections to long passages of Christopher Hampton's admirably starch-free translation. (Think Janeane Garofalo at her sarcastic best.) Her dry rejoinders are often accompanied by a withering, contemptuous glare. But existing alongside this self-conscious irony is a childish impulsiveness. Hedda doesn't just announce her boredom; she demonstrates it by flinging herself on the floor and beating the daylights out of the flower arrangements, a child pointlessly smashing its toys. Hedda's fervent desire to control someone else's destiny, it seems, is a dangerous side effect of her inability to control her emotions.

But Mr. van Hove is not simply anatomizing the self-destruction of a flawed personality; nor is the production's updating a superficial gesture. Mr. van Hove is using Ibsen's text as a mirror to reflect a contemporary culture in which isolation, self-absorption and a need to instantly satisfy emotional whims are the norm. Nearly all the characters in this production share Hedda's shrugging affect and problems with impulse control; their personalities often seem almost interchangeable.