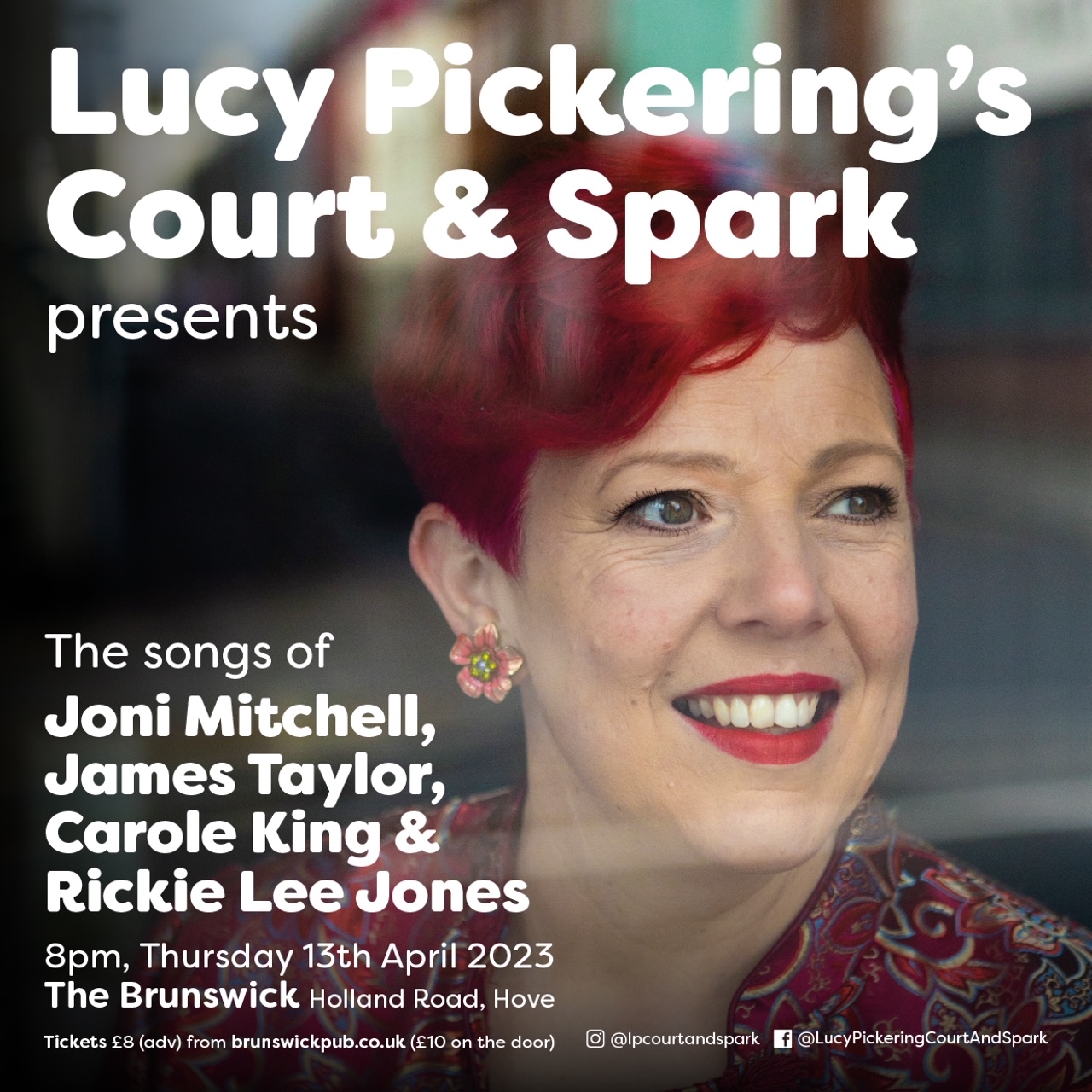 A & M studios in California 1971 was the birthplace of three timeless classic albums. Joni Mitchell's Blue and Carole King's Tapestry were recorded in adjacent studios. Just down the hall, James Taylor was recording Mud Slide Slim, and the three friends shared session players, inspirations, lunches and also added harmonies and instruments to each other's albums.
At The Brunswick in Brighton UK on April 13th 2023, Lucy Pickering and her band Court & Spark will perform their favourite Joni Mitchell, Carole King and James Taylor songs in an evening of Laurel Canyon highlights such as Carey, Country Road, A Case Of You and I Feel The Earth Move. In addition they'll be adding songs by Rickie Lee Jones, the West Coast 1970's artist most famous for her smash hit Chuck E's In Love. They recently played to a packed house at Shoreham's Ropetackle Arts Centre, and are delighted to be back at The Brunswick before taking the show further afield in 2023.
Lucy Pickering's Court & Spark celebrate the songs of an unforgettable era of great music, bringing together some of Sussex's finest musicians in a fruitful jazz/folk/pop collaboration. Lucy's vocals and piano-playing pay faithful tribute to the singer-songwriter stylings of the early 1970's, and the band add an exciting West Coast vibe that recalls Pat Metheny, Jaco Pastorius, Russ Kunkel and Tom Scott's LA Express in their heyday.
RECENT AUDIENCE TESTIMONIALS:
"the next best thing to seeing Joni Mitchell herself in concert"
"What a voice! Lucy will blow you away with her vocals"
£8adv
7.30PM
18+
More information