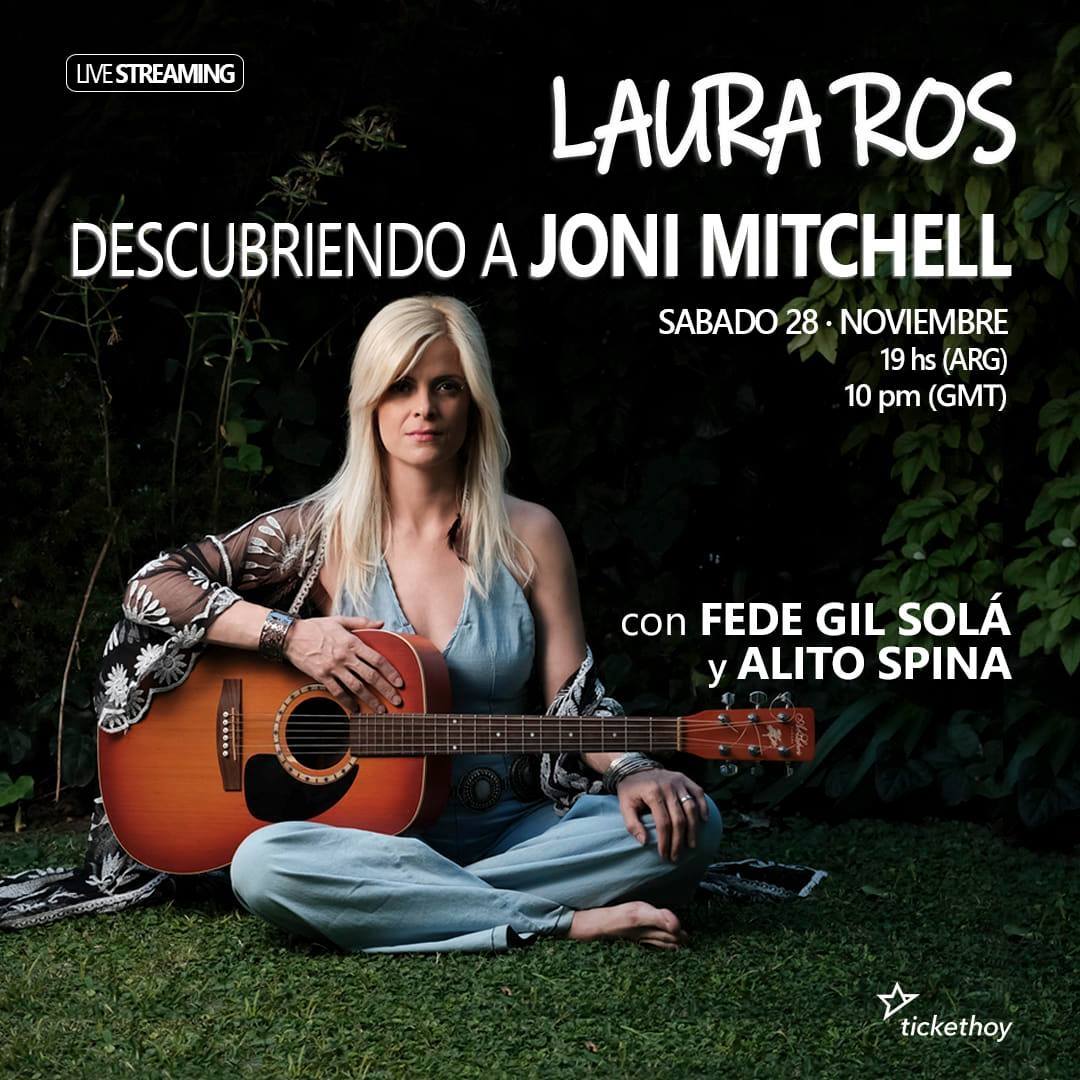 Con Federico Gil Solá y Alito Spina
Varias generaciones de músicos han sido cautivados e influenciados por la originalidad y excelencia de Joni Mitchell como compositora, guitarrista, pianista y cantante.
Laura Ros, prestigiosa y premiada autora, cantante y guitarrista argentina, encontró en Joni la inspiración para embarcarse en este mundo de melodías simples e inmensamente complejas, de rebeldías creativas, del desorden de las afinaciones de las guitarras para lograr ese sonido que sólo Joni podía crear.
Acompañada en batería y percusión por Federico Gil Solá (Wire Train, Divididos) y en bajo por Alito Spina (Iván Noble, Palo Pandolfo & La Hermandad), Laura se dispone a transitar el repertorio de Joni sin perderse a ella misma en el intento; una combinación difícil de lograr y Laura lo consigue. Un enorme desafío para la voz y para la musicalidad de cualquier artista. Laura se dispone a transitar el repertorio de Joni, guitarra y voz.
Afinaciones y tonalidades originales, adaptaciones a guitarra de temas compuestos en piano y dulcimer, diferentes épocas, diferentes Jonis, incluyendo temas de Clouds, Ladies of the Canyon, Blue, Court and Spark, The Hissing of Summer Lawns, Hejira, Wild Things Run Fast y Night Ride Home; todo esto reflejado en un show imperdible.
Nota sobre las afinaciones
Joni utilizó para componer más de 50 afinaciones de guitarra diferentes, muchas creadas por ella. Lo que implica, además de un ajuste de afinación entre canciones, un cambio completo de lógica en las posiciones de la mano que pulsa los acordes. Laura se propuso, nos sólo respetar las afinaciones originales sino adaptar a guitarra algunas canciones originalmente compuestas en piano o dulcimer, pensando la adaptación lejos del lugar tradicional, buscando una afinación alternativa que le diera al tema ese sonido que, en esta fantasía, Joni le hubiera dado de tocarlo en la guitarra. 21/5000 mas informacion aqui / More information here