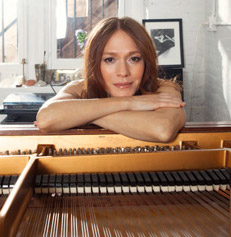 Multi-genre artist Reimann's retrospective of the early hits of iconic and influential Joni Mitchell with guest artist Michele Temple (Pere Ubu). Hannah will read selections from the recent best-selling biography, Reckless Daughter: A Portrait of Joni Mitchell by David Yaffe in between songs. More information here
Born in New York City to German and Korean parents, Musician and Filmmaker HANNAH REIMANN sang publicly at 2 years old, studied Classical piano since childhood, received her BA from Sarah Lawrence College and began her career as a concert pianist (Lincoln Center, Grand Canyon Music Festival)."A determined and uncanny performer" of the music of Joni Mitchell (New Yorker Magazine), she synthesized her roles as multi-instrumentalist performer, teacher, and filmmaker over two decades.
Multi-instrumentalist Michele Temple has been performing and teaching since she was twelve. As a live performer Michele plays electric bass in avante rock outfit Pere Ubu since 1993 and with Le Garage Cabaret featuring accordianist Marni Rice.Michele has a Master's degree in Musicology and teaches at the Brooklyn Conservatory as well as other music and private schools around the city. She counts among her former students multiple Grammy winning artist Alicia Keys.