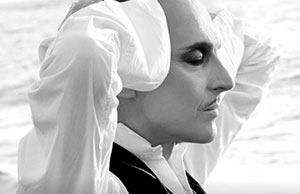 'Down To You' is a concert version of John Kelly's acclaimed tribute to the music of Joni Mitchell. This 'drag free' version is performed without the usual theatrical costumes, focused on songs from the various stages of Ms. Mitchell's career, sung in Kelly's signature three-octave voice, and played utilizing her unique guitar tunings and on the dulcimer that she gave him upon first seeing his performance. Music direction and piano by Zecca Esquibel.
Kelly's 2017 version of 'Down to You' (Joe's Pub, June 2017) was cited by The New York Times as one of the top ten opera and vocal performances of the year and was included in New York Magazine's 'Reasons to Love New York' feature.
John Kelly is a performance and visual artist. Over the course of his four-decade-long career he has created over 30 group and solo performance works including 'Pass The Blutwurst, Bitte', 'Find My Way Home', and 'Paved Paradise: The Art of Joni Mitchell'. His works have been presented at BAM, Lincoln Center, The Kitchen, New York Live Arts, PS 122 and the Tate Modern among other venues.
Awards and fellowships include 2 Bessie Awards, 2 Obie Awards, a USA Artists Award, and 2 NEA American Masterpieces Awards. Fellowships include The American Academy in Rome, The Radcliffe Institute for Advanced Study, and The Sundance Theatre Institute.
In 2017 he premiered 'Time No Line,' a performance work based on 40 years of journal writings at La MaMa, and an exhibition of his visual artwork was presented at Howl! Happening and subsequently traveled to Real Art Ways in Hartford, CT. More information here