Molly Malone
Guitar tablature transcribed by Howard Wright
Tuning: EADGBE (other transcriptions in this same tuning)
"Joni" Tuning: E55545
Tuning pattern: x55545 (others in this same pattern)
Capo on fret 2

Download/View Transcription (PDF)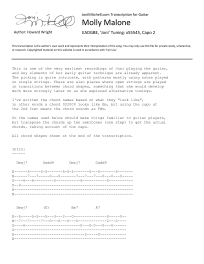 Author Notes:
This is one of the very earliest recordings of Joni playing the guitar,
and key elements of her early guitar technique are already apparent.
The picking is quite intricate, with patterns mostly using notes played
on single strings. There are also places where open strings are played
in transitions between chord shapes, something that she would develop
much more strongly later on as she explored alternative tunings.