Harry's House - Centerpiece
Guitar chords transcribed by Dylan Rush
Tuning: EADGBE (other transcriptions in this same tuning)
"Joni" Tuning: E55545
Tuning pattern: x55545 (others in this same pattern)
Capo on fret 3

Download/View Transcription (PDF)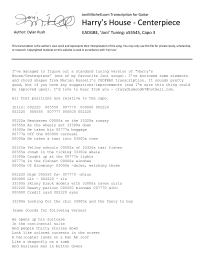 Author Notes:
I've managed to figure out a standard tuning version of "Harry's House/Centerpiece" (one of my favourite Joni songs). I've borrowed some elements and chord shapes from Marian Russell's CGDFBbD transcription. It sounds pretty good, but if you have any suggestions/improvements (and I'm sure this thing could be improved upon)

I'd love to hear from you - crazydiamond67@hotmail.com.
All fret positions are relative to the capo.