Night In The City
Guitar chords transcribed by Howard Wright
Tuning: DADF#AD (other transcriptions in this same tuning)
"Joni" Tuning: D75435
Tuning pattern: x75435 (others in this same pattern)
Capo on fret 5

Download/View Transcription (PDF)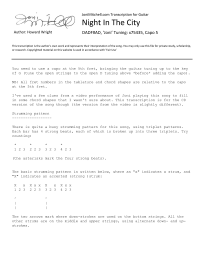 Author Notes:
You need to use a capo at the 5th fret, bringing the guitar tuning up to the key of G (tune the open strings
to the open D tuning above *before* adding the capo).

NB: All fret numbers in the tablature and chord shapes are relative to the capo at the 5th fret.

I've used a few clues from a video performance of Joni playing this song to fill in some chord shapes that I
wasn't sure about. This transcription is for the CD version of the song though (the version from the video is
slightly different).