Shadows And Light
Guitar chords transcribed by Marian Russell
Tuning: CGDFCD (other transcriptions in this same tuning)
"Joni" Tuning: C77372
Tuning pattern: x77372 (others in this same pattern)

Download/View Transcription (PDF)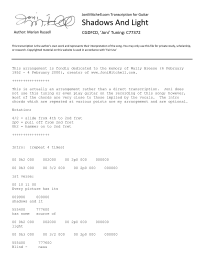 Author Notes:
This arrangement is fondly dedicated to the memory of Wally Breese
(6 February 1952 - 4 February 2000), creator of JoniMitchell.com.

This is actually an arrangement rather than a direct transcription. Joni does not use this tuning or even play guitar on the recording of this song; however, most of the chords are very close to those implied by the vocals.