The Crazy Cries Of Love
Guitar chords transcribed by Howard Wright
Tuning: CGDEGC (other transcriptions in this same tuning)
"Joni" Tuning: C77235
Tuning pattern: x77235 (others in this same pattern)

Download/View Transcription (PDF)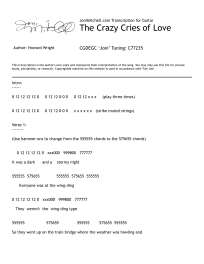 Author Notes:
This is one of Joni's favourite tunings. The chord shapes will also be pretty
familiar to anyone who has played other songs of hers in this tuning
(e.g Sunny Sunday, Cherokee Louise etc). Even with those same chords, it's
still a great song, with a wonderful shuffle rhythm.