Harlem In Havana
Guitar chords transcribed by Howard Wright
Tuning: EADGBE (other transcriptions in this same tuning)
"Joni" Tuning: E55545
Tuning pattern: x55545 (others in this same pattern)

Download/View Transcription (PDF)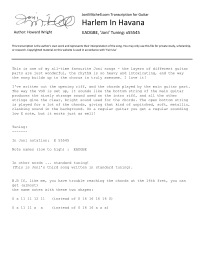 Author Notes:
This is one of my all-time favourite Joni songs - the layers of different
guitar parts are just wonderful, the rhythm is so heavy and intoxicating, and the way the song builds up in
the chorus is truly awesome. I love it!

I've written out the opening riff, and the chords played by the main guitar
part. The way the VG8 is set up, it sounds like the bottom string of the main guitar produces the nicely
strange sound used on the intro riff, and all the other strings give the clear, bright sound used for the
chords. The open bottom string is played for a lot of the chords, giving that kind of unpitched, soft,
metallic, clanking sound in the background. On a regular guitar you get a regular sounding low E note, but
it works just as well!