Jerry Lawson
Posted July 12, 2019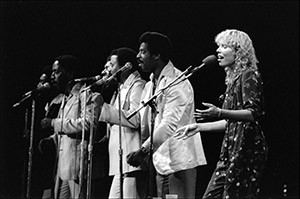 Jerry Lawson, who for four decades was the lead singer of the eclectic cult-favorite a cappella group the Persuasions, has died. He was 75. Lawson died Wednesday at a Phoenix hospice after a long illness, longtime friend and sometime Persuasions producer Rip Rense said.
Lawson's smooth baritone led the group of five and later six singers, who were revered as the "The Kings of a Cappella" by their small but devoted fan base. Through 25 albums the Persuasions recorded rock, blues, gospel and pop songs, all with no sound other than their own voices, long after the doo-wop era and long before the "Pitch Perfect" movies, when a cappella was rare. -Andrew Dalton
The Persuasions accompanied Joni on her 1979 tour, doing an opening set, then being brought back to join Joni on "
Why Do Fools Fall in Love
" and "
Shadows and Light
".