Elliot Roberts
Posted June 21, 2019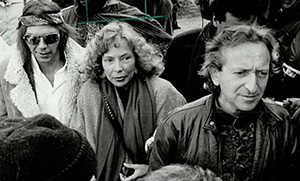 In October of 1967, Buffy Sainte Marie urged a young talent scout from the Chartoff-Winkler Agency to come listen to Joni perform at the Cafe Au Go Go in New York City. Smitten immediately with her talent, the young man pitched being Joni's manager. "I don't need a manager, I'm doing quite nicely", Joni replied.
But he was a funny man, Joni enjoyed his humor, and before long he was managing Joni's career. And it was just a few months later, in March of 1968, that Elliot Roberts negotiated Joni's first record contract with Reprise Records.
Elliot managed Joni until 1985, and had just recently begun doing so again. A true legend in the music industry, Roberts also landed a record deal for Neil Young, co-managed CSN&Y, conceived the idea of Tom Petty backing Bob Dylan in the 1980s and helped launch the careers of Tracy Chapman and the Cars.
Born Elliot Rabinowitz on February 25th, 1943, Roberts was raised in the Bronx and initially hoped for a basketball career before turning to music. Elliot died this morning at age 76.