Joni Jazz Brunch, Danbury CT, June 23
Posted May 22, 2019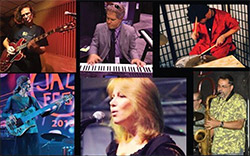 Come for brunch, or just to enjoy Joni Mitchell's music! Molly Darcy's superb brunch, featuring specialty brunch cocktails - prix fixe, or choose anything from the lunch menu.
The 6-member band performs Joni's musical arrangements of her best-loved hits from her critically acclaimed albums: Court & Spark, Shadows & Light, Hejira, Miles of Aisles, Blue, Hissing of Summer Lawns, Mingus. Onscreen videos accompany many songs, with Joni's photos and paintings creating a visual story for her poetic lyrics.
Featuring Leslie Ballard (vocals, flute), Christian Martirano (keyboards), Matt Spencer (drums), Tony DePaolo (guitar), Steve Moran (sax, clarinet), and Steve Zerlin (bass). More information here.