10th Anniversary of Fiddle and Drum, Calgary, May 1-4
Posted January 30, 2019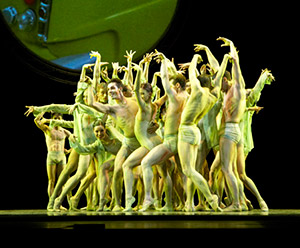 Celebrate the 10-year anniversary of the world premiere of Joni Mitchell's The Fiddle and the Drum, a storied collaboration that launched what has become Alberta Ballet's hallmark concept-it's signature portrait ballets.
The fruit of an intense 2-year labour of love between famed Canadian singer-songwriter, Joni Mitchell, and choreographer Jean Grand-Maître, witness what the songstress describes as "the most satisfying project of her career."
Joni Mitchell's The Fiddle and the Drum gives passionate expression to Mitchell's lifelong concern with the issues of conflict, violence and humanity's continuing devastation of the environment. Alberta Ballet dancers depict Mitchell's most famous characters from her lyrics and artwork, at times in counterpoint, abstractly illustrating our fragile hope and potential for the creation of beauty. More information here.