Celebration of Joni, Ventura CA, January 18
Posted December 21, 2018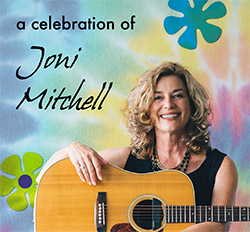 A Celebration of Joni Mitchell featuring Kimberly Ford is a rocking tribute to the most iconic singer-songwriter of the Woodstock generation. Mitchell touched millions with her nearly 40-year career that spanned genres from contemporary folk to jazz to full-throated pop-rock. Hear all your favorite Joni tunes, like Help Me, Conversation, Blue, River, All I Want, Free Man in Paris, Cary and, of course, Woodstock ... The band also throws in a few you might not have heard before ... To hear the band, go to www.celebrationofjonimitchell.com where you can find a video on the home page ...
Kimberly Ford, lead vocals, guitars, mandolin; Leland Rollag, guitar, violin, backup vocals; George Friedenthal, piano, keyboard, melodica, background vocals; Tom Buckner, saxophones; Tom Etchart, basses; Sven Holcomb, background vocals; Charles Levin, drums and percussion
Namba Performing Arts Space
47 South Oak Street
Ventura, CA 93001
Two-set show at 8 p.m.
All Ages
Admission: $25
For more info, call (805) 628-9250
We have just returned from a successful four-day Bay Area tour, including stops at Yoshi's Oakland and Kuumbwa Jazz Center. This is our only show in Ventura this year before we head back out on the road again in February. Our last performance in Ventura in 2016 at Music Under the Stars was a near sell out ...More information here.