Joni - A Celebration, Brighton and Hove UK, January 31
Posted December 21, 2018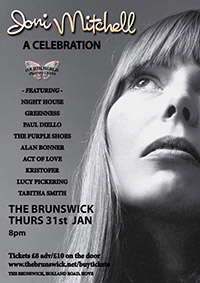 Fourth World Promotions return to The Brunswick with another evening of tribute and celebration for phenomenal iconic artists. This time we bring together 9 fantastic acts to perform their versions of songs by the one and only Joni Mitchell.
Featuring performances from- Night House, Greenness, Paul Diello, Alan Bonner, The Purple Shoes, Kristofer, Lucy Pickering, Tabitha Smith, Act of Love.
This night of love and admiration for one of the best musicians and lyricists is a must for any fan of Ms Mitchell, and indeed any fan of live music!
Doors 8pm, Tickets £8 in advance/£10 on the door. More information here.