Lauren Faggiano Tribute to Joni, Buffalo NY, Nov 2
Posted September 17, 2018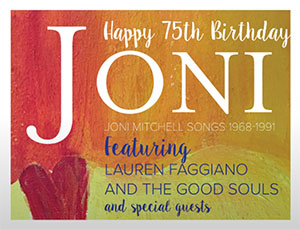 Come celebrate Joni's 75th birthday with some of her biggest fans! Joni's music and art has touched the lives of so many. This show will have songs showcased from the following albums: Song to a Seagull, Clouds, Ladies of the Canyon, Blue, For the Roses, Court and Spark, The Hissing of Summer Lawns, Hejira, Don Juan's Reckless Daughter, Mingus, Wild Things Run Fast and Night Ride Home. Thats over two decades of music! The night will feature Lauren Faggiano on guitar, piano and vocals with her phenomenal band, The Good Souls supporting her.
Ken Schumacher - bass
Sungmin Shin - lead guitar
Cindy Tag - saxophones, clarinet and flutes
Sara Rogers - vocals, guitar, trumpet and flugel horn
Marc DeSalvo - drums
Abdel Albino - percussion
Amanda Dimino - backup vocals
To make this evening that much more special, Leah Zicari, Lindsey Holland, Ed Croft, Cathy Carfagna, David Meinzer & Tom Marinaro will all be making a guest appearance to share some of their favorites with you all. Roz Mikolajek will be showcasing her artistic prowess on canvas, reflecting the depth and color of Joni's music and art. This night is going to be magical, and I hope you all can join us.
More information here