JONI 75: A Celebration Live at the Dorothy Chandler Pavillion
Posted September 05, 2018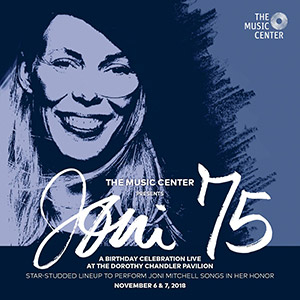 Today The Music Center announces two star-studded concerts, JONI 75: A Birthday Celebration Live at the Dorothy Chandler Pavilion on November 6 and November 7, 2018, featuring an incredible array of singers and musicians who will honor one of the world's most remarkable artists, Joni Mitchell, on her 75th birthday. On both nights, Glen Hansard, Emmylou Harris, Norah Jones, Chaka Khan, Diana Krall, Kris Kristofferson, Los Lobos, Graham Nash, Seal, and Rufus Wainwright, will perform songs from all stages of Mitchell's life and career, across the entire oeuvre of her 19 studio albums. Co-musical directors, providing the musical arrangements for the evenings, are percussionist Brian Blade and pianist, composer, arranger, producer Jon Cowherd. Buy tickets now.
Following the second concert, on November 7, 2018, The Music Center will salute Mitchell on her birthday with The Music Center's Soirée: JONI 75, a special celebration for her and a fundraiser for The Music Center's artistic programming.
Read the full press release here.