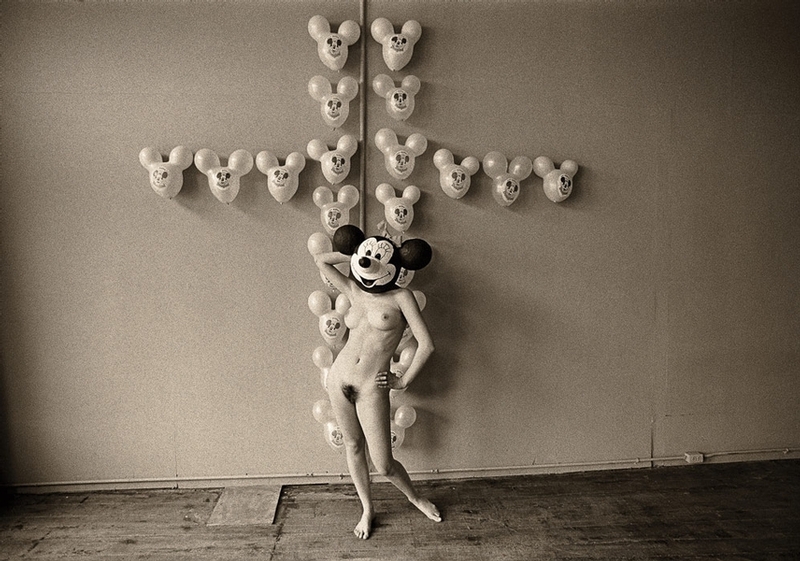 "In the song, Don Juan is really the art of the tongue, it's rapping - coffee house poet talk," says Joni who dressed up as a black guy for the LP's cover and sleeve. That's her too, underneath the Indian garb. The shooting sessions were upbeat, with Joni trying on different dresses and dancing around while Norman Seeff clicked away. When he asked for another change of clothes, he hardly recognized the black character that strutted from the dressing room five minutes later. "At that point, I realized I really enjoy character acting," she says.
Working again with the Camera Lucida (Lucy) machine, Joni arranged the photos agreed upon from the sessions: she blew up the shot of her as the black guy and put it in the foreground; she liked the spirit of the shot with the top hat because it symbolized what she felt was the 'magic' on the album; and she included the shot of a kid who'd been in a session for a previous album. "He was shy and had never danced before, that's why he's looking at his feet," she says. But to her, the elements were not "homogenized" enough to be the final cover shot.
When she noticed a postcard of a nude with a Mickey Mouse hat and balloons on a bulletin board she felt it was "the element that was like the cherry on the pudding that makes the whole thing come together." She worked it onto the dress, partly obscuring the pubic area and figure of Mickey Mouse (for legal reasons), I added the birds, and then had an airbrusher smooth over the edges of all the photos. She then selected the background colors from the options presented by Glen Christensen, who, she says, has a "wonderful knowledge of inks."
According to Joni, most reviews of the album missed its point: "Basically it has to do with turning your back on America and heading into the Third World...at the time Muslims were messing around in Washington, there were radical tensions. I was disillusioned. The songs on the album have a lot of ethnic references and there's a certain sentimentality for the North American Indian."