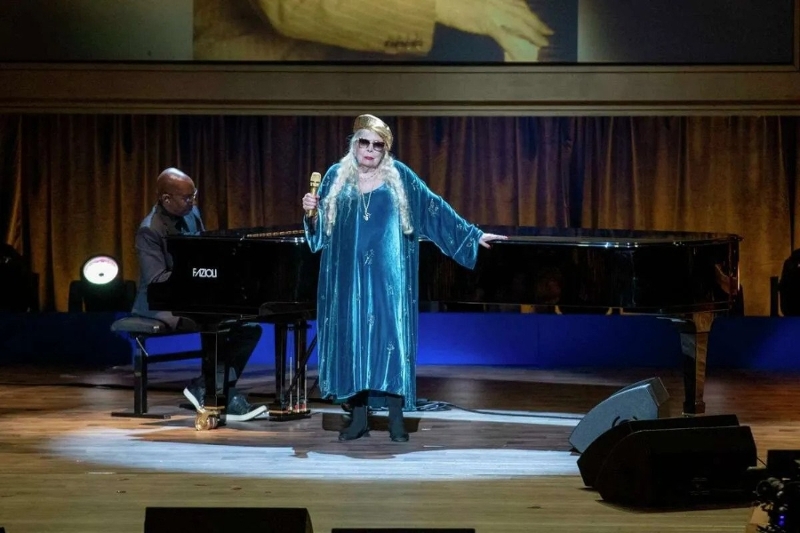 "Ira Gershwin, shame on him. I mean, some of the writing.... Do you know what I mean? "And so all else above." [Quoting from Gershwin's lyric for 'The Man I Love.'] Shame on you, Ira! What does that mean?"
The Joni Mitchell I knew loved saying things like that. The Joni I knew hated almost everything. And when she got a big award, she always thought it was for the wrong reason, or that its effects wore off immediately. When she won an Album of the Year Grammy for Turbulent Indigo in 1996, she said that the next day there was a newspaper article about singers in the "Now and Then" category. She was "then," even though she had just won that Grammy! The next year, she boycotted The Rock and Roll Hall of Fame. She had just written this song about its cofounder, Rolling Stone editor and publisher Jann Wenner:
"Kiss my ass, " I said
and I threw my drink
Tequila trickling
Down his business suit
Must be the Irish blood
Fight before you think
Turn it now
You can't kowtow
You can't undo it
It's his town
And that went down
Like a lead balloon
Joni skipped the ceremony. The charge for bringing her family was outrageous. She could afford it, but she liked being a smart shopper, and she did not want to give it to them. When Graham Nash, her onetime lover and fiancé, delivered the award, it was smashed by baggage check, so he brought the pieces of broken glass in a garbage bag, and he did this while she was taping a television show. She told him that was where it belonged.
We who love Joni know what happened to since. An aneurysm from eight years ago laid her low. She, who came back from polio at 10 defied the doctors who told he she could never walk again. She didn't just walk, she danced. When I saw her perform at Massey Hall a few months before turning 70, she struggled to sing two songs. She made great theatre out of the condition of her pipes. She did something extraordinary because that's what she does. Her four pack a day smoking habit had everything to do with this - even though she said it was vocal nodes - and her second husband Larry Klein told me that she was so impossible to be around when trying to kick cigarettes, he would eventually beg her to start smoking again.
But her pipes have been getting cleaned out since 2105. She told Graham Nash that she forgot that she smoked. We did not forget, but we were grateful. Her extraordinary set at the Newport Folk Festival was a testament to that. I predict that a full set at the Gorge in Washington State will be better. The more comfortable she is up there, the less coaxing she'll need from Brandi Carlisle. She will probably keep going in the biggest comeback I have ever witnessed. Lazarus was an amateur.
There she was last November, getting the Kennedy Center honor. And there she was in March, getting the Gershwin award. I love the Library of Congress and have done research there. They consulted me about this program, well after everything was in stone. They offered me an honorarium, I filled out forms, answered their questions, made my suggestions, and then they ghosted me. God Bless America.
Paul McCartney, Paul Simon, and Stevie Wonder got it - there's a Mount Rushmore - and some other names that make you wonder what this prize was about when they thought that Billy Joel and Lionel Richie were the best this great nation could do.
But Joni belongs on Mount Rushmore, of course. I saw the ceremony like a civilian on tv last night. I saw Diana Krall crush "For the Roses." It's a very bitter song about the music business (when a horse stars going downhill, they throw a wreath around his neck and shoot him), and it was a very real moment for this ceremony. James Taylor owned "California" (he's all over Blue), but wouldn't it have been cool to hear him sing "Cold Blue Steel and Sweet Fire," based on his heroin addiction? I know it would never happen—just in my alternative ceremony. Angelique Kidjo sang the hell out of "Help Me,:" a very hard song to sing, which lost to ONJ for a Grammy. (If Joni had won, there would have been footage of her being presented an award by John Lennon and Paul Simon.). Kidjo nailed the song, made it hers, and went right up to Joni and danced and chanted to her. Joni swiveled in her chair and even got up. Tears! I had them through this whole thing. Graham Nash, who kind of lived trough "A Case of You" moved me in a way I didn't think possible. Brandi Carlisle, bless her, sang the hell out of "Shine," a song we both love. Her delivery was spectacular, and I was pleased to see our nations hallowed halls with lines like this:
Shine on good humor
Shine on good will
Shine on lousy leadership
Licensed to kill
Shine on dying soldiers
In patriotic pain
Shine on mass destruction
In some God's name
If you wondered if, say, Kevin McCarthy was listening, you didn't have to. He was right up there. I'm sure he will now give up the speakership for a modest position at Greenpeace. Susan Collins was up there. Remember when she voted for Bret Kavenaugh? She totally gets it now. Amy Klobuchar and Patty Murray were there, too. They will do what they do. The artists are the unacknowledged legislators, even on a night when one of the greatest we have and ever will have was being acknowledged.
When it was her time to sing, she gave a jaw dropping performance of "Summertime," and I don't any of the other recipients sang Gershwin at the Gershwin ceremony. She sang it beautifully on Herbie Hancock's Gershwin's World in 1998, but it was even more exquisite at the Gershwin ceremony. She wasn't just singing the notes she'd lost—she was showing them off. She sank into that standard like a warm bath. It was sexy, it was sultry, and she sang it as if she were channeling the muted trumpet of Miles Davis himself. We are all getting older, we are all falling apart, the country, the planet, its all doomed. And Joni Mitchell got back up and absolutely killed. Then, to give us perspective, she sang "The Circle Game" with everyone else. It is a song about some perspective, something Joni had at 21 when she was trying to cheer up Neil Young at 20. We can't return, we can only look. We, the survivors, got to look. Joni was happy. She was dancing. She sang Ira Gershwin's lyrics without reservation. The world kept ending around Joni Mitchell, and all she could do was to keep being the Joni Mitchell they were celebrating. There she was, in the hallowed halls, with a new trophy, having night that was 'swonderful. As Joni was declared a national treasure, her words from 1966 became fate. "They'll be new dreams, maybe bigger dreams and plenty…."