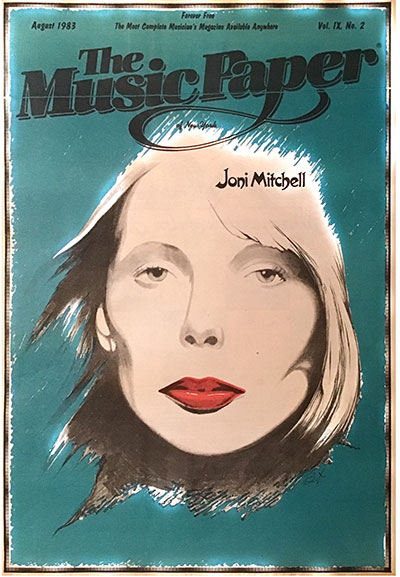 Joni Mitchell, née Joan Anderson, was born with the Moon in Pisces on Nov. 7, 1943 in Fort Macleod, Alberta and raised in Saskatoon, Saskatchewan. She wrote and painted all her life and music was originally just a hobby, one, however, that finally "mushroomed." Her performing instinct emerged quite early. While in the hospital during a Canadian polio epidemic (one in which Neil Young was also stricken), she began singing for people and discovered she liked the attention. As folk music came into prominence in the early 60's, Joan began associating with people "who played Kingston Trio records" and she eventually bought herself an instrument.
She began her musical career in local coffee houses while attending art college at Calgary, Canada. In the mid-1960's she was briefly married to folk singer Chuck Mitchell. After they separated, she moved to New York and became an important folk presence by virtue of her songwriting. Even before that she made her first record, several of her songs were recorded by other artists. Folk singer Tom Rush did "The Circle Game" and of course, Judy Collins covered "Clouds" and "Michael from the Mountains."
With the move to NYC, Joni developed a small circuit of clubs that she managed to fill to capacity every night, even before her first LP was released. It was this strong early success which, at least in part, caused her to turn to confessional and biographical songwriting, mainly because she felt people "should know who they applauding." Two important changes occurred in the early period. First, David Crosby "discovered" Mitchell in a Florida club and produced and played on her first album. This she regarded, and still regards, as "a great service to her career." The second major change was in her artistic style. She decided to let go of some of her preoccupation with childhood, with "Fairy Tales and Fantasia." With her head "out of the clouds", her music began to change, showing fewer poetic adjective just as her art featured fewer ornamental lines and curlicues.
Her first album, Song For A Seagull, was released in 1968. The record was hailed as one of the most notable debuts of the year and contained the exhilarating "Night In The City." The album Clouds was released the following year and on it Mitchell offered her own renditions of the title cut and "Circle Game." It also featured the haunting and beautiful "For Free." With the release of her third album, Ladies of the Canyon, she became the author of an anthem, "Woodstock." It was also a major hit for her friends Crosby, Stills, and Nash.
Her next two records, Blue and For The Roses, saw Mitchell expanding beyond conventional folk-pop song forms into a more complex and freely inventive narrative style. Inspired by Bob Dylan's rough-hewn oracular song-poems, she began to compose more extended narratives. Her first steps in this directions were especially prominent on Blue, which Joni described as her most "honest" album. It featured delightful "old guard" ballads such as "Carey", which is accompanied by the delicate strains of a dulcimer, and "River", with its haunting piano intro. But it also showed an increasing tendency toward exploration in new areas. "The Last Time I Saw Richard" particularly shows a breaking free from regular meter, a touch of the Sprechstimme-like elements that would become both a source of controversy among those in her audience who craved more accessible songs, and a fountainhead for her later metamorphosis into a jazz-pop singer. "You Turn Me On I'm A Radio" also had a similar scat-like turn, as Joni Mitchell began to woo, to "court and spark", a new style.
Joni Mitchell's first brush with jazz in her music came because of a chance remark made at one of her sessions. While trying to explain in an abstract way what she needed for a track, one of the musicians suggested (helpfully) that she get herself a jazz drummer. Coincidentally, Tom Scott and the L.A. Express happened to be playing in the area. Scott had played on her For The Roses LP, but when she heard the full L.A. Express live, she invited them down to a session. After a few false starts, things began to cook and in 1974, Court and Spark burst luminously into the stellar pop sky.
With the assistance of Tom Scott as hornman and arranger, Mitchell cautiously began to incorporate jazz instrumentation. Court and Spark gave Mitchell her biggest hit to date, "Help Me", as well as it's follow-up, the straight-on rocker "Raised On Robbery." But rock was not to be her ultimate direction. Her scat rendering of Ross and Gray's "Twisted" showed her veering further into the orbit of classic jazz, a la be bop.
Her upbeat Miles of Smiles LP contained restatements of her outstanding earlier work, recorded on the road with the L.A. Express. But her sleek new jazz rock approach to [section missing] only a hint of [section missing] and true that she was to undertake.
Mitchell has commented, somewhat wryly, that being popular in the entertainment field is rather like getting elected to a political position. After about four years people get the yen to vote you out of office. If the entertainer changes. Mitchell feels, they will be crucified for changing. If they stick to a formula they will be crucified for not changing. Of the two, Joni said she much prefers the former kind of crucifixion since it is "much less boring".
There was certainly nothing boring about the public reaction to The Hissing Of Summer Lawns issued in 1974. As Mitchell herself said, "Whatever the mirror was that I held up, it was more of a confrontation than a lot of people could take." In fact, she had drastically changed the theme of her lyrics to that of a social commentary on alienated marriages and the trapped housewife in suburbia. Gone were the confessional lyrics. Gone also were the pop orthodoxies. "The Jungle Line" features spare Moog and acoustic guitar over a repeating loop of Burundi warrior drums. "Shadows and Light" used only farfisa and arp keyboards and vocals. "Centerpiece" was a further digression towards the jazz age. While cuts like "In France They Kiss On Main Street" were clearly post-Court and Spark, the important new element was a jolting minimalism.
On Hejira, Mitchell returned to the confessional mode with a collection of song-poems about travel and escape. What remained of the sleek jazz-pop sound of Summer Lawns was pared down to bare, brooding sound marked by the intimate interplay of Mitchell's guitar and the sensitive electric bass playing of Weather Report's Jaco Pastorius. Throughout most of this period, Joni Mitchell frequently associated with jazz musicians, asking questions and [words missing]
Pastorius and Weather Report's sax player Wayne Shorter were featured on Don Juan's Reckless Daughter, and experimental two-record set that included the extended symphonic dream piece "Paprika Plains." Here, some said, Joni Mitchell and pop nearly parted ways. Still, she faithfully followed her muse, expanding her musical turf. It was at this time that jazz great Charles Mingus contacted Joni about a collaboration.
Having noted her strong latin/jazz aspirations on Don Juan's Reckless Daughter, Mingus thought perhaps she could help condense and set T.S. Eliot's "Four Quartets" to music. While that project never reached fruition, something wonderful, culminating in a fully flowering jazz collaboration, did.
On Mingus (the cover of which is bedecked with vibrant paintings by Mitchell of the great bassist/composed in his last days), the cycle that began with Court and Spark reached its resolution. Striving to please Mingus and yet be true to her own folk roots and personal experience, Mitchell created a stunning work with the musical boundaries between the two composers' styles (She wrote two of the songs on the album and covered Mingus' work) as organically intermingled as the human forms of the composers are on the album's cover painting.
It then remained only to sum up the second cycle's material in a concert album - Hejira, Mingus, Summer Lawns, all performed live with a presence and immediacy of a confident artist in her exciting, ever-expanding musical prime.
And now today there is another beginning, a new direction. According to Mitchell, her new record Wild Things Run Fast departs from the cycle that began with Court and Spark. Having [text missing] curiosity about the jazz medium, she feels it only natural to re-discover the excitement and rhythmic animation of rock.
The songs on her new album run from pure rock to flowing jazz-pop. The record, a rite of passage statement, is a self-portrait of the artist on the threshold of middle age. As always, she scrutinizes the romantic life with a mixture of wry humor, high spirited optimism and farsighted resignation. The LP is organized about two pillars. "Chinese Cafe," a songs about approaching middle age, opens the record. "Love," the foil for the reveries of "Cafe" is the closing track, an adaptation of Corinthians chapter 13, verse 1. Wild Things draws the energies from the "new music" hybrid rhythms used by groups like The Police, but it is uniquely realized by the fresh new rhythm section of Larry Klein (bass) and Vinnie Colaiuta (drums).
An added surprise has been a summer tour by Mitchell, featuring many of these new cuts as well as the new backing group. But for Joni Mitchell, for whom the only constant is change (and dedication), surprise is the rule. She has followed, and continues to follow, her muse, "constant as a northern star." Her 'hejira' (the term for the Moslem pilgrimage to Mecca) was not and is not a one time or one album event. It is continuous growth. And after all, to pose a musical question, "How you gonna keep 'em down in Saskatchewan after they've played "A Night In The City"?