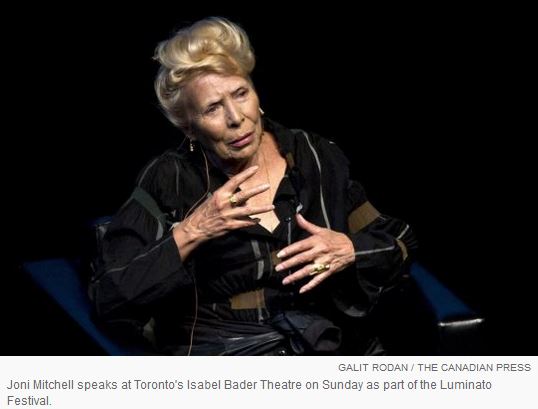 Herbie Hancock, David Wilcox, Emily Saliers and Vince Ditrich praise the music legend in advance of her sold-out tribute concerts.
She won't be singing at her birthday party.
But on Tuesday night, Joni Mitchell will recite a new poem. The singer-songwriter is making a rare public appearance, leaving her sanctuary in Los Angeles to take part in the sold-out "Joni: A Portrait in Song."
The two-night concert series is arguably the biggest event at this year's Luminato Festival and the brainchild of artistic director Jorn Weisbrodt. To celebrate Mitchell's 70th birthday — not to mention her influence on popular music over the past half century — a number of artists will perform in the sold-out concert at Massey Hall on Tuesday and Wednesday, including Glen Hansard, Esperanza Spalding, Rufus Wainwright, Lizz Wright and Herbie Hancock.
Accompanied by musician Brian Blade, her long-time collaborator, Mitchell will forgo any singing for spoken words. And in advance of the concerts, in tribute to Joni Mitchell, four musicians now offer some words of their own:
Vince Ditrich, Spirit of the West
I was born in Lethbridge, Alta. She was born in Fort Macleod, Alta. That's 22 miles away. She was on my radar for sure and she had a sound that was sufficiently unique. She had that folkie vocal tone, which I suppose could have been mistaken for a number of other singers. But some of the harmonic surroundings and some of the production treatment on her stuff — and the sense of humour and the acerbic sense of irony in her lyrics — was pretty piquant.
She's a smarty pants. She's very bright. She has lived her life in such a way that she's always kept a freedom of opinion. She'll be one of the few artists who is truly an artist. She's a multi-headed monster.
She was a full-on folkie but she matured more thoroughly and more richly than practically anyone else in her generation. She has moments throughout her career where something will stick out. Of course, I loved Big Yellow Taxi and Free Man In Paris and some of the earlier stuff. She was getting her feet under her and showing such a breadth of vision. She also surrounded herself with exquisitely competent musicians, which was highly unusual for the time.
When I was first called by Jaco Pastorius to participate on an album that Joni was doing called MINGUS — celebrating Charlie Mingus, who at the time was dying from cancer — he said, "We're doing this record and the only piece that's missing is you." And I said, "Joni Mitchell is doing a record of Charlie Mingus? Wow. Who else is on the record?" And he said, "Wayne Shorter." And I said, "I'll be right there."
That's where I first met Joni. I was thinking I might have to back off of certain things I might have done if it was just Jaco and Wayne, who were already doing cutting-edge stuff in jazz. But Joni actually said, "No, no. You go ahead and paint pictures, do whatever you want to do with the music."
Then when she started to sing along with us, she fit in so easily, I was shocked.
That was when I really started to pay attention to Joni. I thought she might have the quote-unquote limitations of rock 'n' roll and folk. But she wasn't like that. Joni is as cutting edge as anybody. And later, when I really began to pay attention to her music, I saw that she was already designing music that was not your typical rock.
She and I are now old friends. We've not only done concerts together but we've hung out. There used to be a restaurant here in L.A. where we both knew the owners and they had live music. Sometimes we'd go there for dinner, have a few drinks and sit in with the band.
Joni Mitchell was the biggest influence of all on me and the kind of music that I play. Of course, the open tunings. I learned Joni Mitchell songs first. So after learning five of her tunings, I learned regular tunings later.
But the biggest influence was learning that it was possible to completely trust your audience as a writer. Joni didn't just write polished songs, she let the listener into her world. She wrote with the kind of vulnerability and honesty that opened up the boundary between performer and audience, and established a trust that wasn't there before.
It was almost a sacred trust.
And to be trusted that much as a listener put us in an honorable position of seeing the world through her eyes. She trusted the audience too much in a way. She trusted them to change and evolve and progress politically and spiritually and emotionally. She trusted them to not fall for the same tricks and to expect a more complex view of the world. She fully expected the world to change.
When the music business kept being corrupt and superficial, it must have felt like betrayal.
Emily Saliers, the Indigo Girls
When I was 18, I got a copy of Joni Mitchell's HEJIRA and, huddled in my dorm room, dropped the needle on the title track over and over again, endlessly, completely lost in her dreamy landscape. As a young songwriter, I was mesmerized by the combination of her deep musicality and profound lyrics.
She could take a singular image, "the wax rolls down like tears," and make me feel a lifetime of experience that wasn't even my own: "There is the hope and the hopelessness I've witnessed 30 years." There are countless artists who inspired me along the way, but only Joni so directly influenced me.
I fluctuated between feeling motivated and debilitated by her sheer genius. I read some interview somewhere that basically said she wanted artists to do their own thing, not to emulate her and, while I felt secretly chastised, I couldn't help but continue to hold her up as the epitome of what a songwriter and renaissance artist could be.
DON JUAN'S RECKLESS DAUGHTER; the Burundi drummers on The Jungle Line; an album called MINGUS; the guitar tuning for Woman Of Heart And Mind; the solo dulcimer on Blue and the Fairlight synth on Dog Eat Dog; the museum-worthy paintings and portraits; the way she blew my mind.
Joni Mitchell rules then, now, and always.