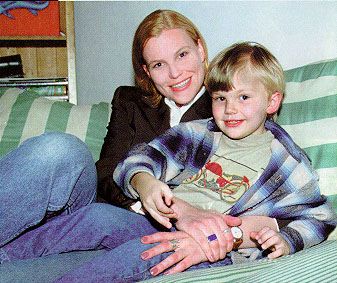 Internet provided link for fairy-tale reunion between Joni Mitchell, long-lost child

Child, with the child, pretending
Weary of lies you are sending home
So you sign all the papers in the family name
You're sad and you're sorry, but you're not ashamed.
Little Green, have a happy ending.
-Little Green, from Joni Mitchell's 1971 album, Blue

Joni Mitchell finally got a happy ending last week when she was reunited with her Little Green, the daughter she named Kelly and put up for adoption 31 years ago. It turns out we've probably all seen Mitchell's daughter. We just didn't know it.

Model Kilauren Gibb is the daughter Mitchell gave up for adoption in 1965. Gibb grew up in Ontario and went on to grace the cover of magazines, including the November 1983 issue of Chatelaine. The Toronto resident has also been in several advertisements for The Bay department store and prowled the world's fashion runways during her career as a model.

Mitchell, 53, and Gibb were reunited - along with Gibb's four-year-old son, Marlin - two weeks ago in Los Angeles. The reunion, which has turned Mitchell's parents, Bill and Myrtle Anderson, into instant grandparents - and great-grandparents - has been a shock for everyone involved. "To have a 31-year-old granddaughter is a little overwhelming. I'm looking forward to seeing the little boy," Myrtle Anderson said Saturday from her Saskatoon home. Anderson confirmed Gibb's Chatelaine appearance was part of a 13-year modelling career, but was reluctant to provide any more details. "It's not really up to me to reveal this story. I'm still sketchy enough on the details myself," she said. "But I know there are no secrets anymore." Mitchell had her baby in Toronto in February 1965.

She didn't tell her parents about the child until two years after the adoption. Mitchell has been searching for her daughter for several years, but was continually blocked by Ontario's secretive adoption laws. The story took a fairy-tale-meets-high-tech twist when Gibb was told she was adopted and started looking for her mother three years ago.

Anderson said Gibb found Joni Mitchell's homepage on the Internet which described Mitchell's search for her child. Using her own adoption papers and Mitchell's information, Gibb apparently figured out she was the long-lost daughter.

Wally Breese, the homepage's author, started corresponding by e-mail with Gibb. In a Sunday interview from his San Francisco home, Breese said he started receiving inquiries from dozens of 30-something adoptees looking for their mothers.

But details Gibb provided, including her birth date, convinced Breese that Gibb was the one. He put Gibb in contact with Mitchell's managers, who confirmed the story and put mother and daughter in contact. "Isn't it a wonderful story? It's so marvelous. It means so much for me to have been able to help Joni with this. My project has always been to promote her and to possibly fill a hole in her heart is more than I could have hoped for," Breese said. "So many people are moved by this. A mother and child reunion is an emotional thing."

Breese said Gibb e-mailed him Wednesday upon her return to Toronto. She thanked him for his help and said she had a wonderful visit.

Gibb's grandmother confirmed the visit went well. Anderson hopes to meet her grandchild and great-grandchild on Mother's Day. The Andersons were used to being caught in the glare of their daughter's spotlight long before the adoption mystery became public knowledge. But with the revelation that Mitchell and her daughter had been reunited, attention from the media intensified.

Reporters from The Globe tabloid based in Florida, The New York Post, Great Britain's London Times, The Calgary Herald and a Los Angeles television station have all made calls inquiring about the mystery. A reporter from the London tabloid has even spent a week in Saskatoon fishing for information. "He's been pestering us to death," Anderson said. "He sat in his car outside our house one day this week. One of our neighbors almost called the police."

Despite these annoyances, Anderson said she can understand the interest in her family's story. "It's a funny thing. One reporter told us that people complain they report a lot of bad news. This is a happy story. It seems as though people are very excited about it. It's like a fairy tale to them."

Anderson also said she is thankful her granddaughter is already used to media attention from her modeling career.

Mitchell is expected to make a public statement about the reunion this week. Speaking about the melancholic but hopeful song Little Green, Mitchell's first public description of her lost child, Anderson described the pain the song once brought to her. "It's a sad little song. I wasn't able to listen to it for a long time. But it's become a little happier for us all lately."