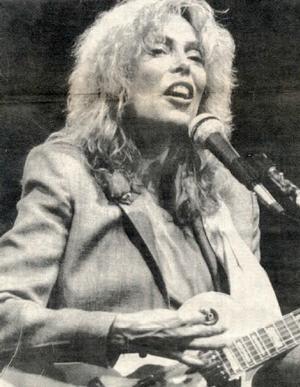 CLEVELAND - It had been years since Joni Mitchell took her music on tour with a band of her own. She had been seen with Bob Dylan's Rolling Thunder Revue, and she had been an important part of The Band's Last Waltz, but virtually her only communication with her own audience had been on four demanding, increasingly abstract, increasingly jazz-flavored albums: The Hissing of Summer Lawns, Hejira, Don Juan's Reckless Daughter, and the new Mingus.
But when she brought an all-star jazz band to play with her this week at the Blossom Music Center, the outdoor summer home of the Cleveland Symphony, the crowd that came to see her was perhaps 14,000 strong.
"I respect my audiences very much these days for hanging in with me," she told me the morning after the show.
What she had just given them, though, could not but reinforce their loyalty. She began with a hearty Big Yellow Taxi, a sensuous Court and Spark, and renditions of In France They Kiss On Main Street and Coyote that were stronger, more insistent, more infectious than on the original albums. Jaco Pastorius from Weather Report was on bass; Don Alias was on drums and percussion; Pat Metheny and his principal collaborator Lyle Mays played guitar and keyboards. Individually these men are among the best-known contemporary jazz musicians and session men. Together with Joni Mitchell they become, among other things, a very fine rock band.
After another Summer Lawns song, Michael Brecker joined the line-up with his saxes for Free Man in Paris. The solos this specialist in immaculate funk provided here, and on Black Crow (where he played the guitar part!), and elsewhere, were more heartfelt than anything I have heard from him before.
Then, yes, Joni did dive into her jazz repertoire and sang a suite that combined Goodbye Pork Pie Hat and The Dry Cleaner From Des Moines (Mingus settings of the late bassist's melodies) with a spaced-out bass solo that ended with Pastorius beating his instrument into the floor with his belt and stopping the resulting feedback with a leap onto the strings from his amplifier. Her phrasing on the songs here was magnificent, working against the rhythms but never seeming forced or purely whimsical. Her breathing gave the songs life.
A pair of songs from Hejira likewise bracketed a much more romantic solo from Pat Metheny. And a dazzling conga solo led into Dreamland, the percussive opening track [sic] from Don Juan's Reckless Daughter, as the other musicians returned to the stage for a groove that brought the evening's first (of half a dozen) standing ovations.
Furry Sings The Blues, God Must Be A Boogie Man and a hard-driving Raised On Robbery brought the show to a first-rate finish, but she came back for a series of four encores and managed to make each one more climactic than the last.
For the first time she brought back the Persuasions, the famous a capella quintet she had asked to open for her, to join her (and Mays on cathedral organ) in the shivery six-part chorale, Shadows And Light.
Then she sat down at the piano for the first time, alone, and sang the most moving song of the night, The Last Time I Saw Richard from the eight-year-old Blue album, following up with the full cast for a startling, rousing Why Do Fools Fall In Love. (Their collective feel for 50s rock 'n' roll and her authentic phrasing were both fabulous.)
And finally - 10 years to the day after the beginning of the Woodstock Festival - she returned once more to sing her famous song of commemoration. Accompanied by only her guitar, Woodstock was hard-edged this time, slower and quite dissonant, and when she escorted herself offstage still playing - and continued to repeat the inconclusive closing notes over and over for maybe a minute while the light came up - there were tears in more than a few eyes.
We were touched, I think, not by nostalgia alone, but also by the realization that a magical concert had come to a perfect end, and by an awareness of how much the star of the concert has grown towards the greatness she seeks in the intervening decade.
"This was a really beautiful night," she said, "we've all enjoyed it sincerely." These were the last of the very few words she spoke on stage, and she hadn't needed to say even this. (Her enjoyment had been obvious in her rare physical involvement in the music - the way she smiled and twitched her hips and shook her cloud of curls as she sang.)
Afterwards, though, she was on a rare conversational high as she sat backstage for an informal chat with a very small group of media people.
Of her last tour, she said, "The Rolling Thunder Revue was a phenomenon; I came out as a spectator and sort of got swept along." She felt she was the only member of the team who thought Hurricane Carter was "a jerk".
"There was nothing else I wanted to do at the time," she said, "and I was prepared to take some ego-bruises for the benefit of having certain experiences. They helped me to have insights into certain situations (with the other stars) in this band."
The next album will probably ("I don't know until it comes out of me") be a move away from jazz and back to her own songwriting. But she will continue to work with jazz musicians, most likely, and hopes to do more settings of jazz music. Specifically on the Miles Davis albums Nefertiti and In A Silent Way, "there are melodies I'm very fond of and I would love to make them something I could sing."
Now she has been asked to join John Hall, James Taylor, Jackson Browne, Bruce Springsteen, the Doobie Brothers other stars at next month's series of anti-nuclear benefit concerts in New York - and she isn't sure what she'll say.
"I prefer to stay out of political things," she said. Although she did perform at the nuclear rally in Washington, "I don't want to be just naively radical. I'm more of a pro-type than an anti-type, and if a positive solution comes up, I'll jump right on it."
Meanwhile, in relation to her career, no, she is not altering her course to suit what radio programmers think we'll like. "Every year it gets a little tighter," she says. "Like with presidents in office, a lot of people feel it's time to make room for someone new.
"Still I have the feeling my best work lies ahead of me. So don't shut me out yet!"
Top 10 hits
Compiled by CKOM
This Week
1. My Sharona, The Knack
2. Main Event, Barbra Streisand
3. Made For Lovin You, Kiss
4. Good Times, Chic
5. Can't Change That, Raydio
6. Devil Went Down To Georgia, Charlie Daniels
7. Is She Really ..., Joe Jackson
8. Lead Me On, Maxine Nightingale
9. Goodbye Stranger, Supertramp
10. Lonesome Loser, Little River Band