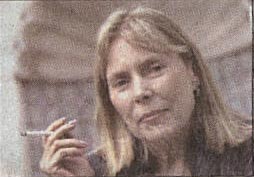 Writer Cathryn Michon recently met Joni Mitchell, who, she says, has always been like a mother to her. Michon, who recently published a humorous, mock self-help book, told us she had a "long, gorgeous lunch," with Joni Mitchell after writing about the singer. They were brought together by a friend of a friend.

Michon writes in "The Grrl Genius Guide to Life: A 12 Step Program on How to Become a Grrl Genius According to Me!" (Cliff Street Books), that she believes she's the daughter Mitchell gave up for adoption years ago:

"I understand from People magazine that a girl has come forward who claims to be Joni's daughter , but let's look at the cold facts. This 'daughter' does not sing at all, whereas I, like Joni, am a three-octave soprano. This 'daughter' looks nothing like Joni, whereas I cannot set foot in a room where there are musicians without someone going on and on about how much I look like Joni."

Michon, a former TV writer, actress and stand-up comic now says it was all a joke, and that Mitchell didn't seem to mind.

As Michon writes in her book, "All I want is to play Joni in the miniseries of her Grrl genius life that so desperately needs to be made."