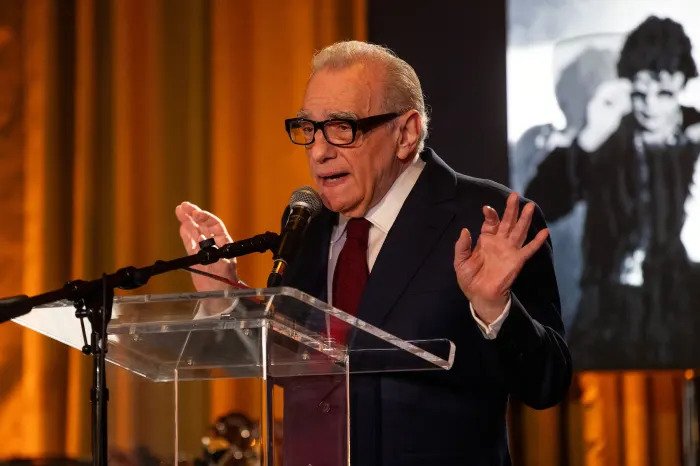 Filmmaker Martin Scorsese was in Los Angeles last night to remember a close friend and collaborator: Robbie Robertson, the onetime guitarist and songwriter for The Band, acclaimed solo artist and film composer, occasional actor, and record company exec, who died in August of prostate cancer at 80.
"We were friends, but more than that - confidantes, someone you confide in," Scorsese said during an affectionate, emotional speech Wednesday at "Robbie Robertson: a Celebration of his Life & Music," an invitation-only gathering at The Village, the storied recording studio where countless classic albums have been made through multiple musical generations.
It's also where Robertson kept a workspace for more than four decades and completed his final project there, the score to Killers of the Flower Moon, Scorsese's epic western crime drama, now in theaters. To tell the true story of a string of murders of Native Americans in Oklahoma's Osage Nation over oil rights, Robertson drew on his own indigenous heritage as the son of a Cayuga and Mohawk mother.
"I think that for Robbie, this was the pinnacle in our collaboration on this picture that is dedicated to him," Scorsese said. "He was destined to score Killers, which unfolded from the world of the Native American community, in this case, the Osage Nation. I think he created one of the most beautiful scores ever written for film. His music is the beating heart of the picture."
The director was the main speaker in a night filled mostly with live music, which studio owner Jeff Greenberg declared amounted to "a room full of giants," both onstage and in the seated audience.
Two of the film's stars, Leonardo DiCaprio and Lily Gladstone, were there to watch. So was Joni Mitchell, who was greeted warmly by guests. Performers included singer-songwriters Jackson Browne and Jason Isbell (who also has a role in the film), with a band of rock virtuosos from drummer Jim Keltner to bassist Tal Wilkenfeld.
Greenberg opened the evening with a short, tearful speech, noting that he got to see Robertson in the building almost every day. "I had the pleasure of knowing a humble and shy and brilliant magician and musician because he truly did make magic," Greenberg said.
Then the music began with Rocco DeLuca on dreamy lap slide guitar and gospel singer Johnny Shepherd, who had recorded with Robertson for his score from Killers of the Flower Moon. They are also from a band called Mighty Glad, and performed a gentle, soulful song called "Twilight," then a piece called "They Don't Live Long" from the soundtrack, featuring an ethereal, wordless vocal from both. They were followed by singer Angela McClusky, accompanied by Paul Cantelon on upright piano, for the song "Whispering Pines," McClusky's vocals were understated but, as always, cutting deeply.
There was a vivid orchestral performance of a medley from Robertson's Killers score, mixing strings and electric guitar with traditional percussion. The night closed with three more songs by the band, starting with a gently rollicking "The Night They Drove Old Dixie Down," sung by Citizen Cope. Then Jackson Browne, the night's musical headliner, led the ensemble through two sons by The Band: 1968's "Caledonia Mission" and the signature song, "The Weight," joined by Isbell, McClusky and others.
For Scorsese, the passing of Robertson means the loss of an important collaborator and sounding board, and in his speech noted the many times that the rock musician made key suggestions for music to include in a film. Scorsese arrived onstage at The Village to a recording of "Moonlight Serenade" by Glenn Miller, and explained that when he was in need of the perfect song to end the Howard Hughes biopic The Aviator, Robertson argued for the lush romantic tune was a fitting signifier of a time of "America after the war, the beginning of American Empire, and Howard Hughes's own role in shaping it."
The duo became close friends during the making of 1978's The Last Waltz, a film originally meant to simply document the farewell concert in San Francisco by The Band, but it soon expanded in scope and meaning, with additional shooting on a soundstage and at the Shangri-La recording studio in Malibu.
"From 1976 to '78, we composed it like a piece of music," Scorsese added of the documentary's development, "and in the process, it became a real movie, became a film. And during those two years, Robbie stayed in my house. We had informal classes, music class for me, film class for him."
"We kept working together for the next 45 years ... 45 years of me discussing the films I was making, the individual scenes. I'd try to express the atmosphere, the tone, the world that I was trying to create, the music that would complete my vision of that world and what I needed. And as we talked, his words became the music on Raging Bull."
Scorsese added that Robertson's ideas for music to include in a film were often outside the norm, and frequently became key moments in the telling of a story. For 1995's Casino, Robertson casually suggested that the director reuse a piece of music by Georges Delerue written for Jean-Luc Godard's Contempt.
"That simple suggestion opened up to me a whole new set of possibilities," the director recalled. "I could use music from other films. Why not? I didn't have to be limited in my choices. It broke barriers for me and took away all these old limitations."
Another song dropped into Scorsese's lap was "I'm Shipping Up to Boston" by Dropkick Murphys, a stirring Gaelic rocker that turned into a muscular musical cue for the director's Oscar-winning The Departed. But for all the music Robertson shared with the world, and in his relationship with Scorsese, his moments of quiet could be just as memorable.
"I feel friendship is private. It's trust. Sometimes it's forgiveness and it's love," said Scorsese. "But sometimes silence suffices, silence can be enough. And that's another thing about this guy: Silence. As much as Robbie's words had eloquence, his silences were just as eloquent - and a little unnerving at first."