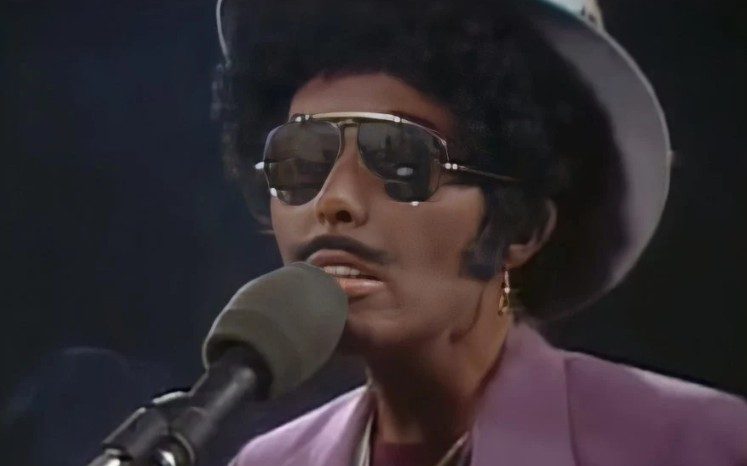 Joni Mitchell will forever be associated with the Laurel Canyon folk music scene of the late Sixties and early Seventies. The scene was a cornerstone of California's predominantly white, beatnik counterculture; other proponents included The Mamas & the Papas, Carole King, The Byrds and Buffalo Springfield. But this categorisation overlooks the huge influence of jazz and soul music on the career of Mitchell, who turned 80 recently. Indeed, Mitchell's relationship with black music is one of the most underappreciated yet defining characteristics of her decades in the spotlight.
It is a relationship that she addressed with a mixture of candid self-awareness and alarming naivety over the years. On the one hand, she has written songs about the cultural appropriation of black musical forms by white musicians. On the other hand, she has donned "blackface" on her album covers and elsewhere, something that is problematic to say the least. Mitchell's association with black music is, it's fair to say, a complicated one.
First, the naivety. Mitchell's controversial use of blackface started in 1976. That was the year when she first dressed up as a male black pimp alter-ego called Art Nouveau. You read that correctly. And it wasn't a one-off. Nouveau was a character that she revisited intermittently over the following six years. Mitchell's reasons for becoming a street-smart male black sex hustler in a sharp suit and gold jewellery were multifarious.
But by appearing in blackface, an afro wig and a wide moustache she was a privileged white person perpetuating a damaging black stereotype. Such a move would be grossly offensive and utterly decried today, but it was still controversial back then. "Even in 1976 this caricature was outrageous and offensive," American historian Ken Padgett, author of black-face.com, told the BBC in 2016.
Why did she do it? The answer - initially, at least - was for a fancy dress party. Mitchell was walking down Hollywood Boulevard in Los Angeles in the autumn of 1976 mulling what to wear to an upcoming Halloween party thrown by bass musician Leland Sklar. "I saw this black guy with a beautiful spirit walking with a bop," Mitchell told writer Angela LaGreca. "As he went by me he turned around and said, 'Ummm mmm, looking good sister, lookin' good!' Well I just felt so good after he said that. It was as if this spirit went into me. So I started walking like him. I bought a black wig, I bought sideburns, a moustache. I bought some pancake make-up. I was like, 'I'm goin' as him!'"
Nouveau went on to appear prominently on the cover of Mitchell's 1977 album Don Juan's Reckless Daughter (which she told New York Magazine was to "freak out" the photographer, whom she didn't like) and also featured - thanks to clever editing - in her 1980 concert film Shadows and Light ("he" is transposed with Mitchell on-stage as she sings a verse of Furry Sings the Blues). The final time that Mitchell appeared as Nouveau was in an unreleased 1982 short film called The Black Cat in the Black Mouse Socks.
There was another reason why Mitchell felt compelled to "create" Nouveau: to counter criticism in the music press. Rolling Stone had labelled the folky Mitchell both "old" and free with her affections due to the numerous relationships she had had with people in the industry. She was offended, and creating an alter-ego was a way of putting up a defensive wall and not having to be herself. Rather than being a subservient, controlled woman, she was the opposite: a strong, powerful man who controlled woman.
As academic Miles Parks Grier argued in his 2012 paper "The Only Black Man at the Party" for the Genders online journal: "Joni Mitchell's black male persona earned her legitimacy and authority in a rock music ideology in which her previous incarnation, white female folk singer, had rendered her either a naïve traditionalist or an unscrupulous panderer."
Mitchell herself once said, "The white male press present me always in groups of women, you know. Whereas the black press lumps me in with [Carlos] Santana and Miles [Davis]. They're not afraid of my... they don't have to keep genderizing me." So Nouveau was her way of fighting against sexism and counteracting the devaluation of her gender. The trouble was, getting rid of one stereotype involved creating a far more problematic one in the process.
As a strategy, Grier calls it "ingenious but limited". (It was also later proved that there were only two articles that compared Mitchell with Santana and Davis - and they were both written by the same person). Then there was the issue of Mitchell's boyfriend during the Nouveau era, the black percussionist Don Alias. He was said to be concerned that Mitchell's white friends would think that Nouveau somehow suggested that he was a black pimp exploiting a glamorous white star. Mitchell's identity politics was tying itself up in knots.
The Nouveau controversy notwithstanding, Mitchell has claimed to not feel white. She once told LA Weekly: "I don't have the soul of a white woman. I write like a black poet. I frequently write from a black perspective." The scanning of her lyrics certainly eschewed florid folk traditions. There's a line in the title track of 1971 album Blue that goes "Acid, booze and ass/ Needles, guns and grass/ Lots of laughs/ Lots of laughs." It's a piano ballad but the lyrics could have come from a hip hop track in the decades that followed.
It is a feeling she has continued to describe in interviews, telling New York Magazine in 2015: "When I see black men sitting, I have a tendency to go - like I nod like I'm a brother. I really feel an affinity because I have experienced being a black guy on several occasions."
On her 1976 album Hejira, Mitchell seemed to address the issue of white musicians appropriating black music. Her track Furry Sings the Blues imagined Furry Lewis, a one-legged original bluesman from the 1920s, propped up in bed as he watched musicians in shining Limousines arriving on his patch in Memphis. As the forces of gentrification tear down the original blues joints on Beale Street, Lewis "points a bony finger" and says "I don't like you".
The interlopers - the musicians in their gleaming cars - are only welcome due to the whiskey and tobacco they give the old blues musicians to perform, Mitchell suggests. It's a stark and sophisticated song that, despite her protestations about not having the soul of a white woman, is mindful of the white musician's place in the broad sweep of musical history.
Mitchell was always drawn to jazz. Even from her early days as a coffeehouse folk singer, her music contained jazz elements. Her open guitar tunings and what erstwhile-lover David Crosby called her "weird chords" aligned her with jazz musicians as much as straight-up folk singers. Mitchell really started to incorporate jazz elements into her music on her sixth album Court and Spark. Released in 1974 after the huge success of Ladies of the Canyon, Blue and For the Roses, this was the album on which Canadian-born Mitchell's jazz leanings started to take flight.
Jazz saxophonist Tom Scott, who'd played woodwind on For the Roses, said that he was "blown away" by the way that Mitchell's ethereal music "defied categorisation" at this time. "She was sitting at the piano and she played the classic Miles Davis 'So What' chord - a five note chord, in fourths. To me, that's a jazz chord," Scott recently recalled to Mojo magazine about this period, referring to the famous Davis song. It was after Mitchell saw Scott's jazz-funk band LA Express playing in a San Fernando Valley club called The Baked Potato that she asked them to be her backing band on Court and Spark. They duly obliged, making the album more rhythmically driven and freeform-sounding than anything she'd done before.
Mitchell was also a huge fan of Marvin Gaye's 1972 track Trouble Man and Stevie Wonder's Talking Book and Music of My Mind albums. She even took her engineer Henry Levy to Wonder's studio when he was recording Innervisions as she was keen to emulate a similar bass-heavy sound, according to Mojo.
In one sense, it could be argued that Mitchell was just following musical trends. In the eyes of the music press, black music was increasingly intersecting with the traditionally white genres of pop and rock in the early Seventies. By the start of the decade, Melody Maker newspaper was running a regular full-page feature called Jazz Scene. It featured the likes of Miles Davis, Herbie Hancock, Sun Ra, Pharoah Sanders and George Benson. In 1971, the paper coined the term "Afro-Rock" to cover the multitude of records emerging from Africa. (It should be said that as well as coalescing, musical genres were also fragmenting: March 1970 saw the first mention of Black Sabbath in Melody Maker, as the hard rock and "riff" scene spawned its own ecosystem).
Mitchell might also have been aware that the field of female singer-songwriters was getting crowded during this period. As well as herself, Judy Collins and Laura Nyro, artists such as Carole King, Carly Simon and Linda Ronstadt were fighting for music fans' attention. Embracing jazz and a fuller sound could have been Mitchell's way of differentiating herself from her competitors.
However I'd argue that her interest went beyond jumping on bandwagons or finding a unique sound. With her perfectionist ear, she'd spend up to eight hours mixing individual tracks on Court and Spark, rare in those days. She was conjuring hugely sophisticated musical arrangements: she'd use colours to describe the sonic moods she was after. She was a stickler for what she wanted.
Mitchell's jazz odyssey continued with Mingus, her 1979 album recorded with legendary bassist and composer Charles Mingus. He died before the experimental album was completed. Mitchell said in a 1988 interview that one of the reasons Mingus approached her was because of her "audacity" in appearing on the Don Juan's Reckless Daughter cover as a black man.
Mitchell's relationship with black music remains one of the most intriguing facets of her career. Venturous and misguided in equal measure, it certainly set her apart from her contemporaries. That said, she has never quite managed to shed herself of the pop and folk tag: none of her numerous vocal-related Grammy victories to date have been in categories other than pop, traditional pop or folk. Still - Nouveau aside - we should salute her artistic boldness while we still can. She's a one-off. And as Mitchell herself sang in one of her best-known songs, you don't know what you've got 'til it's gone.