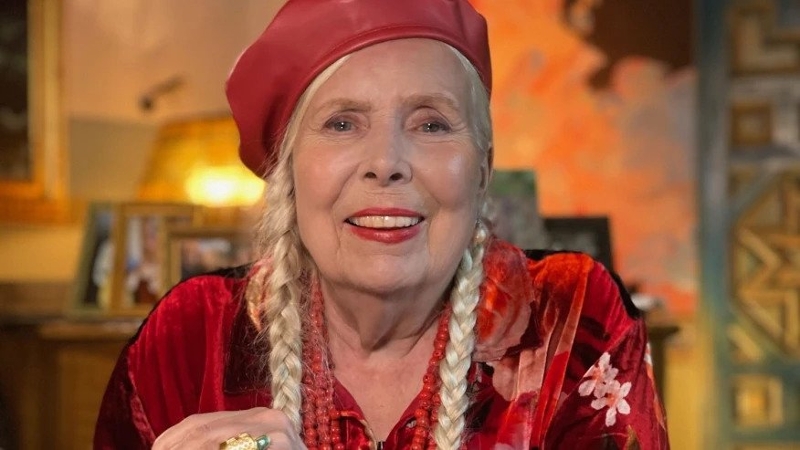 The Library of Congress Gershwin Prize for Popular Song honors a living musician who has amassed a lifetime achievement in entertaining, informing and inspiring cultural understanding. Past recipients of the honor have included Stevie Wonder, Garth Brooks, Paul McCartney, Carole King and Paul Simon.
This year, Joni Mitchell will join that group for her decades of work in the music world. "Joni Mitchell: The Library of Congress Gershwin Prize for Popular Song" will air at 9 p.m. March 31 on Valley PBS. It will also be available through PBS.org plus PBS App and PBS Passport.
An all-star lineup of artists join the national library and American leaders to honor Mitchell. The lineup includes performances by James Taylor, Brandi Carlile, Annie Lennox, Herbie Hancock, Cyndi Lauper, Marcus Mumford, Graham Nash, Diana Krall, Lucius and Angélique Kidjo.
Lennox is certain that when she was a young girl hearing how Mitchell blended poetry and music was the main reason she became a singer songwriter.
"I honestly feel that Joni's significance is all the young women that she has inspired across all these decades who put their hands up and said I was inspired by Joni Mitchell to become the person that I am now," Lennon says. "Because I can tell you this: there were two singer songwriters, women, at that time.
"One was Carole King and the other one was Joni. And they were there. And then, I could see it. Maybe I can do this. So it's like for me to have the honor of being invited to come here and talk about Joni and maybe even to sing for her is an honor, is a deep, deep honor. More than I can express."
Mitchell's influence on the music industry started in the '60s. The Canadian-American musician built a career on very personal lyrics and unconventional compositions from "Song to a Seagull" through "Both Sides Now." Along the way she picked up 10 Grammy Awards and was inducted into the Rock and Roll Hall of Fame in 1997.
Ken Ehrlich, the producer of the tribute, points out what's really interesting about Mitchell is that the visual side of her life is just as "interesting and fascinating and amazingly eclectic and wonderful" as the musical side. He plans to take full advantage of that in the way the show is put together.
"The difficult part of this show is there's so much material, and it's so good. And the songs are so great. And the artists that we have now are just so, they've been selected because of their appropriateness not just so Joni, but to the songs that they're going to sing," Ehrlich says. "I would be remiss if I didn't say this is a problem for me, because I'm used to doing three-and-a-half-hour shows. This is a one-hour show.
"So there are two ways to look at it. One, how are we going to do it? But number two, you're going to get the best of the best of the best, because it's going to, whatever winds up on this show, it got there because it beat everything else out."
Those participating in the tribute were allowed to select which Mitchell tune they wanted to perform. Each decision was made on a very personal connection the artist had with the Mitchell songbook.
That's why Lennox won't not talk about which Mitchell song is her favorite. She doesn't want to give away which numbers she will be performing.
"But I must tell you that I'm hugely excited about doing this. I mean, it is like the ultimate for me, this is going to be a moment, and it's really meaningful. And it's really hard," Lennox says. "I have a process when I'm learning a song that isn't mine. I don't know how many hours of practice one has to do with how many thousand, 50,000 repetitions to get it in.
"And it each time you come to it, it's fresh again. It's like, because every line in Joni's songs, to me, they speak volumes. And it's a kind of haiku in the sense that it's a secret. And you have to find the meaning, and there are many, many meanings in the nuance and inflection of the melodies and everything."
Hancock wanted to be part of the ceremonies because he has known Mitchell for years and the two have performed together. His admiration for her goes far beyond musical notes.
"Joni was such an activist for rights, for civil rights, for women's rights, for just the humanitarian spirit that is actually fundamentally within all of us," Hancock says. "I got a chance to really pay attention to Joni's lyrics.