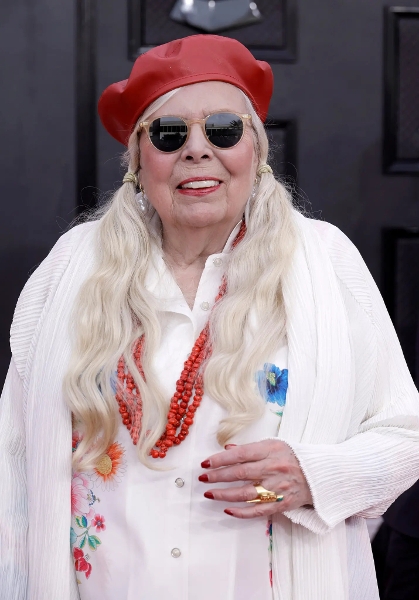 The award from the Library of Congress comes amid a wave of recognition for the singer-songwriter, who performed in public last year for the first time since a 2015 health scare.
Joni Mitchell, the revered singer-songwriter who has recently begun tiptoeing back into the public eye, has been named this year's recipient of the Gershwin Prize for Popular Song, an award delivered by the Library of Congress, the institution announced Thursday.
Mitchell, 79, has received a wave of accolades over the past few years, including recognition at the Kennedy Center Honors; a tribute from MusiCares, a Grammy-affiliated charity; and an honorary doctorate from the Berklee College of Music. The commendations have made once-rare public appearances by Mitchell not so rare. In July, she performed in public for the first time since she suffered a brain aneurysm in 2015, stunning attendees at the Newport Folk Festival - and viewers of the viral videos filmed there.
As part of the Gershwin Prize, Mitchell will be honored with a tribute concert on March 1 in Washington, D.C., that will air on PBS on March 31. Typically, honorees perform at least one song at the event.
Mitchell, who was one of the defining singer-songwriters of the 1960s and '70s, was already expected to return to performing later this year. The musician Brandi Carlile, whom Mitchell has referred to as her "ambassador," announced last year that Mitchell would headline a concert at the Gorge Amphitheater in Washington State in June, a day after Carlile anchors her own show there.
Recognition for Mitchell's creative achievements has surged in recent years, as her 1971 album "Blue" was widely celebrated for its 50th anniversary and the musician started an ongoing project called the Joni Mitchell Archives, which unearths rich collections of previously unheard music.
Performing alongside Carlile at the Newport Folk Festival in Rhode Island, Mitchell sang some of her most beloved songs, including "Big Yellow Taxi," "Both Sides Now" and "A Case of You." Writing in The New York Times, the critic Lindsay Zoladz called Mitchell's resurgence "heartening," noting that "it allows a beloved if somewhat underappreciated artist to receive her laurels while she's still living."
"Younger artists got the chance to pay earnest homage to their elder; a mature woman who was not yet finished reinterpreting her life's work reclaimed the stage," Zoladz wrote.
The Gershwin Prize was established in 2007 to honor living musical artists whose contributions to popular music "exemplify the standard of excellence associated with George and Ira Gershwin." The recipient is chosen by the librarian of Congress - currently Carla Hayden - who receives advice from scholars, producers, songwriters and other music specialists. Previous recipients include Tony Bennett, Emilio and Gloria Estefan, Carole King, Smokey Robinson and Stevie Wonder.