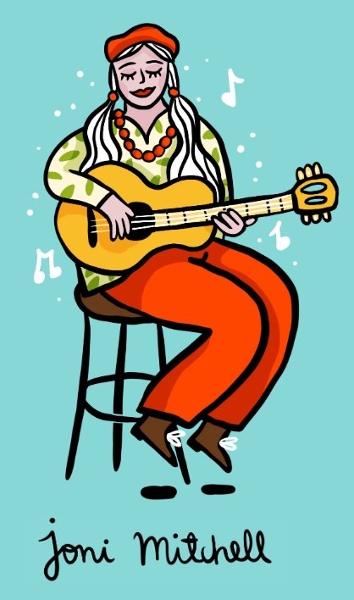 After suffering a brain aneurysm in 2015, she re-learned how to play guitar by watching videos of herself
I was a teenager when I fell in love with Joni Mitchell's music, listening to "Blue," "Both Sides Now," "A Case of You," and "River" on repeat. Being a teenage girl can be a lonely thing, and Mitchell's songs were a port in the storm, because she was singing from inside the storm. She understood the messy business of living, and she never turned away from the complexity of an abundance of feelings and desires. Instead, she created from the chaos, often crafting very spare songs, bracing in their beauty and nuanced observations.
Mitchell's songs cracked open the rock canon thanks to brilliant lyrics, impeccable songcraft, and distinctive tunings and guitar work. In making space for her experiences, Mitchell also helped make space for other women. This past year has been a real testament to not only the scope of her influence but also how other women musicians are circling back around to ensure Mitchell gets her flowers for a comeback that was never guaranteed.
In March 2015, Mitchell suffered a brain aneurysm, and her recovery has been years in the making. She regained her speech and the ability to walk, and, eventually, relearned how to play music, too.
She agreed to write a short foreword to my book Buffy Sainte-Marie: The Authorized Biography in 2018, and this past February, she participated in an in-person, on-camera interview for the 2022 documentary, Buffy Sainte-Marie: Carry It On, on which I'm the co-writer and associate producer. In her foreword to my book, Mitchell wrote about how important Sainte-Marie was to her early success, carrying Mitchell's demo tape and "playing it for anybody who would listen." My teenage self never dreamed I would be within one degree of separation from Mitchell, and as a feminist, the story of her and Sainte-Marie's lifelong relationship has been everything to me - not just because these women made space for one another, but because they've paved the way for a new generation of women to pay it forward.
I didn't know if Mitchell would ever return to the stage after her aneurysm. So it was an overwhelming delight when videos began circulating of Mitchell's surprise performance during the Brandi Carlile & Friends set at the Newport Folk Festival this past July. It was her first concert in 20 years, and her first time back at Newport since 1969. She ended up playing a 13-song set backed by a number of musicians, including Carlile (who has been instrumental, pun intended, in supporting Mitchell's recovery), Allison Russell, Wynonna Judd and Marcus Mumford. According to Carlile, none of the musicians onstage knew that Mitchell was going to do a full set, never mind sing lead throughout and play electric guitar at one point, which Mitchell re-learned by watching videos online of herself playing.
I'm excited about what's to come for Mitchell, and I'm so grateful to have witnessed her return to form in numerous ways this year. I've returned to the Newport Joni Jam videos a lot, and I tear up every time. In the face of awful, hateful, frightening, everything-is-doomed news, hope is a necessary and sacred thing. Joni Mitchell forever.