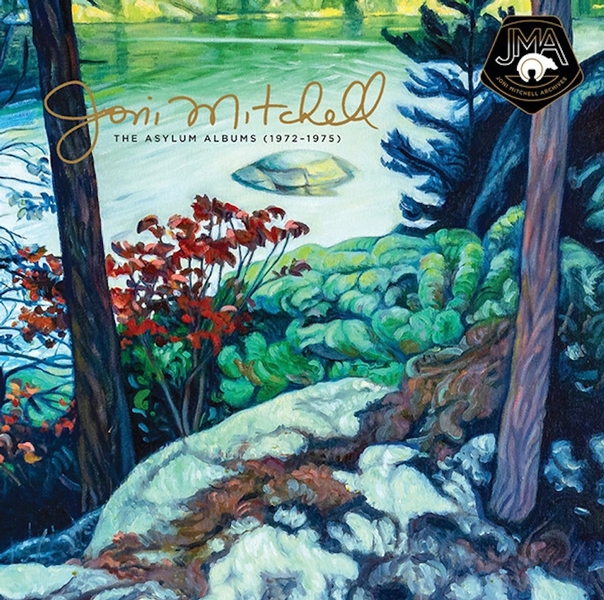 The Joni Mitchell Archive series arrives at the second box of remastered studio albums, The Asylum Albums (1972-1975) (Rhino, 5-LP/4-CD), ★★★★★ with a booklet essay by Neil Young. On 1971's Blue, she had declared, during River, that she was "gonna make a lot of money and quit this crazy scene". When her relationship with fellow star, and a muse for Blue, James Taylor crumbled, Mitchell retreated to Canada to consider her future in a cooler climate, and returned with the material and the cover images for her fifth album, For The Roses, her first for David Geffen's Asylum label.
While it may seem, on the surface, like a disillusioned record, it's really Mitchell edging away from the limelight and steeling herself to work in a new way. Enthusiastically received at the time, it has since become undervalued in her catalogue. In places it's 'Blue II'; Lesson In Survival sounds very close to The Last Time I Saw Richard. Elsewhere, with Tom Scott providing shimmering woodwind parts, Mitchell's dumping folky introspection and gazing longingly towards the mutable landscape of jazz. Which might be what she's doing in Joel Bernstein's naked portrait of her, standing on the shoreline of the Sunshine Coast in British Columbia, inside the album sleeve's elaborate gatefold-within-a-gatefold packaging.
Lyrically, these aren't diary entries, she's singing about characters or concepts, employing extended metaphors. Taylor's heroin addiction is addressed in Cold Blue Steel And Sweet Fire, set in all the places junkies score: "Concrete concentration camp, bashing your veins for peace/Cotton, steel and sweet fire, falling for lady release." For The Roses is full of good things - the title song, in particular - but Mitchell at arm's length wasn't exactly what her fans wanted at the time.
January 1974's Court And Spark was her second masterpiece. Her joy in playing with a band - Scott's crack crew of session players, LA Express - is evident, and off-stage she's hanging with upmarket buddies like Geffen, subject of the buzzy Free Man In Paris. She's moving through swanky parties and swish hotels, and the music envelops her like fine-cut clothes, the multi-tracking of her voice offering up new textures. She uses it to cover her beloved Lambert, Hendricks & Ross on delightful closing vignette Twisted. The extraordinary Car On A Hill, possibly about an unhappy fling with Jackson Browne, more or less foretells how Steely Dan will sound circa Aja. She's ahead of the curve, the pack, whatever you've got, here. It's the album where Mitchell comes out as complex.
Miles Of Aisles (November 1974), documented her first tour with a full band (LA Express minus Joe Semple and Larry Carlton, who were busy with The Crusaders), for an energised distillation of her work to this point. A prowling version of Cold Blue Steel is well received by the crowd: "Joni, you have more class than Mick Jagger, Richard Nixon and Gomer Pyle combined," an audience member heckles. Mitchell laughs delightedly.
Lastly, the groundbreaking The Hissing Of Summer Lawns. Too oblique to be universally admired, it's nonetheless a major work of art. Her inspired use of the Burundi drummers on The Jungle Line prefigures sampling or, indeed, Graceland. Combining them with a synthesizer echoes the ancient and modern collision of Mitchell's brilliant cover art - native tribesmen carrying a python towards a metropolis - a metaphor for the drug trade. Poetic, strange and hip-deep in ideas, Summer Lawns saw Mitchell forever leaving behind mere entertainment. "Joni's music is so deep and transporting. She [was] creating a unique kind of sound that I loved to listen to over and over," writes Neil Young.
She had effectively quit that crazy scene, as promised, and arrived at an elevated place, the arcane jewelled city of Joniville, Population 1.
Joni Mitchell's The Asylum Albums (1972-1975) is released 23 September via Rhino Records.