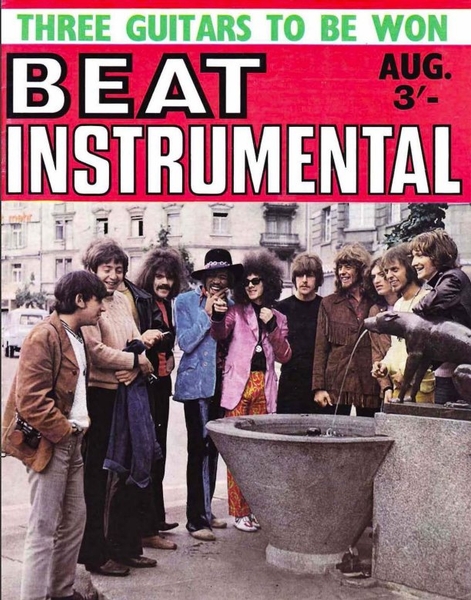 Bob Dylan started off the same way. First of all, word began to filter back from the States that he was a truly original artist. Then the cult began to gain ground, with more and more people in the business passing the good news, doing an unofficial publicity campaign and making a point of recording the songs.
We all know about Dylan, and on present signs, it looks on the cards that, before long, Joni Mitchell will be a major force on the pop scene. Her first LP on Reprise is already arousing much interest, and artists such as Judy Collins, Tom Rush, in England, Fairport Convention – and many more – have recorded her songs, notable for their meaningful lyrics and strikingly unusual melody lines.
And the parallel with Dylan continues. Just as he made a visit to England as an unknown, Joni had a spell in England last summer, playing at the Speakeasy, Marquee and Birmingham's Jug o' Punch clubs, and doing very well.
Information about Joni is pretty hard to come by, but I spoke to Marcie Weinstein, lady-friend of Mike Rosen (of Eclection), who is the Marcie Joni sings about on her LP. Marcie knows Joni from way back, and gave me the hot news that Miss Mitchell – real name Roberta Joan Anderson – is a compulsive smoker and fruit and nut eater. She also loves eating apples and other healthy grub, a result of her farm upbringing in Alberta, Canada.
STUDIED ART
But back to the music. Joni started playing ukulele and guitar and singing folky songs while studying art in Calgary. and found that her crystal yet gutsy sound went down well at a local club and at an Ontario folk festival. Then came more acceptance until she made the trip to New York, where she was signed up by Reprise.
At present, Joni is living on the West Coast, painting, writing songs, recording under producer David Crosby, ex-Byrds, and according to Marcie, 'being very happy and open and trying to avoid being taken for a ride by unscrupulous showbiz moguls".
So much for the background fill-in. If you want to learn about the real Joni Mitchell, the only thing is to listen to such wonders as 'Night In The City', her hot-off-the-presses single and all the other minor masterpieces on the album. Be the first on your block to turn on to Joni Mitchell!
---
JONI MITCHELL
REPRISE RS 6293
Hear this. Joni sings her own songs in a pure, accurate voice above beautifully-arranged backings, conveying emotion after emotion. She sounds rather like Judy Collins multiplied by two, with no trace of the wishy-washy that you often get with crystal- toned lady folkies. All the lyrics are on the double-page sleeve. nicely designed by herself, and there's no denying the sheer poetry and imagination of Joni. Produced by David Crosby, every time I played this album I discovered a wealth of things I'd missed before. It just grows and grows and grows.
Side One: l Came To The City; Michael From Mountains; Night ln The City; Marcie; Nathan La Franeer.
Side Two: Sisotowbell Lane; The Dawntreader; The Pirate of Penance; Song To A Seagull; Cactus Tree.