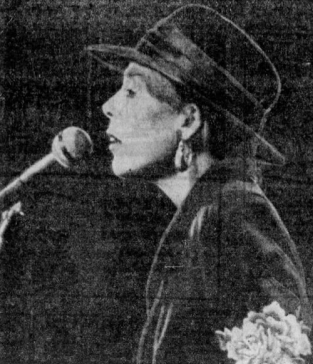 Joni Mitchell's nearly three-and-a-half hour concert last night (including a 50 minute set by the L.A. Express, her back-up band) left the UC Fieldhouse a grandeur and mystery rarely felt anywhere.
The sell-out house was drawn into her private world of special visions, personal metaphors and symbols. The audience was attentive, almost worshipful, singing the lyrics and giving a standing ovation when she performed "Raised On Robbery."
As DIFFICULT as it might be to approach her personally, Mitchell made her experience accessible to the audience allowing them to identify with it almost intuitively.
Joni accomplished this with a mature grace and subtlety. She moved coolly in the beginning of the show, more loosely later, but always with a certain character.
Her music, an easily recognizable melodic form, is given specialty in the way she accents a tune with her unique variations. And when she performs live with her distinct vibrato or a high-pitched ooh, Mitchell imposes emphasis on a phrase.
She commanded the stage and made an event of her presence. Before her entrance, she remained sequestered in her dressing room seeing few of her associates and keeping a world of her own. As Joni entered the stage in total darkness, she was revealed on stage by a spotlight that set apart a space for her throughout the show.
Mitchell songs pinion between the search for love and the isolation often found. She is caught between these forces of love and distance.
At one point, she sings of the desire for love and at another of how she is disillusioned and cut off by love's unavailability. On stage, she balances the two impressions of love couching herself in an air of mystery - she said virtually nothing on stage - yet she performs with forthrightness and enthusiasm.
Most of her set included tunes from her last three albums and several new ones. Mitchell indicated a move from her earlier idealization of love to a more grim, more realistic vision. She writes powerfully of this, as with "Help Me" the show's opener, and expresses it with sensitivity and poise.
Joni also seems to have a dual role on stage. She is as much the victim as the performer. Both "Free Man In Paris" and one of the new songs speak of the isolation such a role creates.
The stage also became her vehicle to partly break away from that trap. She expressed that in letting go with more rocking songs as "In Paris They Kiss On Main Street" or two of her new ones, "Coyote" and "Don Juan's Reckless Daughter."
Her sexuality is an ever-present theme in her music and in the way she dressed - black and red. As she came to the stage her jacket, black slacks and slouch hat hiding her blonde hair made her mysterious. But as the show continued she removed the jacket and hat to let loose her hair and reveal her bright red blouse. Dressed that way she gained a sense of abandon in her songs. And several tunes she performed with no instruments, allowing herself to move and sing freely with the music.
At the ending songs like "Raised on Robbery'' and "Jungle Line" best expressed this wildness and adventure.
In "Furry Sings the Blues," guitarist Robben Ford added the perfect complement to this song about trying to relate to an old blues musician. As she does a straight tune he adds blues licks in the background. The effect creates the meaning of the song as much as the words.
When she soloed on guitar or piano, the effect was stark and the songs took on a stronger meaning.
The L.A. Express was necessary to the show. Their opening set keyed the audience with the right atmosphere of funky jazz-rock. Ford with sax player David Louell, keyboardist Victor Feldman, bassist Max Bennett and drummer John Guerin possessed such finesse that they were able to surround the audience in a warm blanket of sound.
Guerin was particularly exciting on drums giving them greater voice than is usually heard.
After their opening set Feldman said, "When she gave the group confidence to do her thing right we gave her confidence to do her tunes with a piano or guitar alone. She has relaxed more and moved into a new sphere. She is always moving, looking and listening."
AND SHE DID allow some entrance into her world behind stage. Council member Jerry Springer went to her dressing room and presented her the key to the city. He reported, "She said that this was the first time she had received anything like this. The proclamation read that it's her day here, using words from her songs separated by whereas's. She is able to say what politicians would like to be able to say."
And as much separated from the audience as she was, she attempted some resolution by bringing the houselights up during the encore of "Twisted."
As she was ushered out with a manager on one side and Guerin on the other, she seemed again in a world of her own, this time an innocent one. Joni Mitchell showed it takes a lot to maintain the balance between the sensitivity and craziness she must have to express the things she knows.