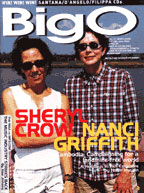 To put it mildly, the new year's most surprising new album has arrived. And it comes from Joni Mitchell, the woman who wrote Woodstock and once defined hippie chick chic, who then turned jazz chanteuse and then returned to invoke the blithe spirit of folk-rock fusion, and who now gives us a new disc of old songs striving to push a point home.

And what point might that be? Why, simply that of the Great American Songbook. Cheekily titled Both Sides Now, after her best-known composition of 1967, this is a collection of old classics and standards, plus two of Mitchell's own songs. Call it something old, something new, something borrowed and definitely blue.

The meek and faithful among Mitchell's flock will be well and truly stunned. Here, there's not one strident strum of that carefully-tuned acoustic guitar (its aural zenith already reached in Miles Of Aisles, Mitchell's excellent live album of 1974). Neither is there any of that slap-happy Ibanez electric (showcased in 1979 on her other live album, the lovely Shadows And Light). And forget that Steinway piano, because she doesn't play any at all here (preferring to deploy the great Herbie Hancock instead.)

All she does now is sing. The only remnant of her past is the confessional nature of the songs, and it's quite an improvement on the bloodless mess of her last album, 1998's largely forgettable Taming The Tiger. Clocking in at a reasonable 51:37, this new one begs repeated listenings and is best appreciated if heard all the way through.

The standards are classic songs that Mitchell began incorporating into her live shows of recent years. Themes of lost love now loom large, amid the counterpoint of French horns, muted trumpets and soprano saxes (the latter played to perfection by Wayne Shorter). The album was cut in just three days in London, at Sir George Martin's famous Air Studios. Four songs were done with a 71-piece orchestra, four with a 42-piece orchestra, and four with a 22-piece big band.

The results are mixed. Mitchell bravely attempts At Last, the Mack Gordon/Harry Warren tune of 1942 best rendered by Etta James, and leaves you wondering why she tried. That old torch ballad, Stormy Weather, doesn't quite cut it either, not when compared to Frank Sinatra's austerely beautiful 1944 recording. Mitchell's reading may be note-perfect but lacks the extra edges that lend conviction, and her attempts to cop Billie Holiday seem a tad shallow.

But redeeming features abound. Aided by Mark Isham's searing trumpet, Comes Love and Don't Go To Strangers come uniquely alive. Rodgers and Hart's I Wish I Were In Love Again is a jaunty experiment in wistful longing, as Mitchell shows us her love for the deft turn of phrase. How can anyone resist lines like "The furtive sigh, the blackened eye/The words I love you till the day I die/The self deception that believes that lie"?

And, ironically, the high point here isn't those old cover tunes but one of Mitchell's own songs. A Case Of You, first heard on her brilliant 1971 album Blue, is rearranged with a brooding string section that makes it even more boldly evocative than the original. That's perhaps the most poignant statement of all, given that Mitchell has now forsworn writing new songs.

Both Sides Now is the first album in a new trilogy planned by Mitchell and her co-producer (and ex-husband) Larry Klein, the common thread being old songs spun anew in a symphonic setting. Way past the point of worrying about silly words like "career suicide," Mitchell shows us that the hippie chick in her has rebelled in the smartest way possible, by crafting music so unexpected that it may take critics and fans years to recover. She challenges you to love the gamut of her self-expression, the whimsical and the sly Ð both sides, now.