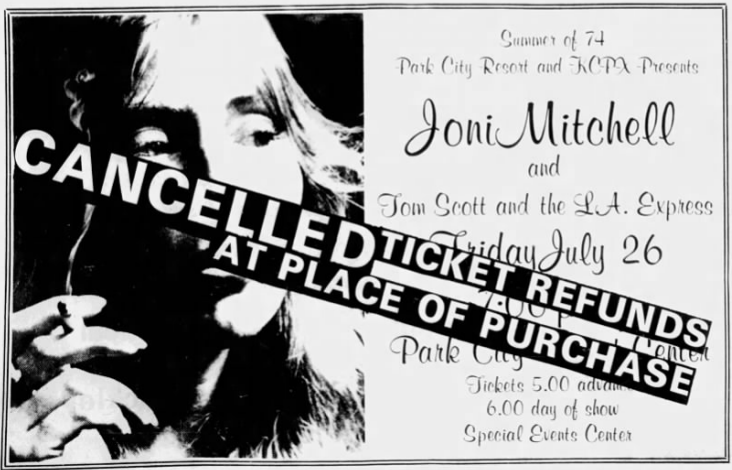 The Joni Mitchell concert scheduled for this Friday in Park City has been cancelled due to what a spokesman at United Bookings said are problems stemming from Joni Mitchell's management.
United says that none of these problems are the responsibility of Ms. Mitchell or the people handling the concert for Park City. According to them, it has nothing to do with the "type of audiences concerts have been drawing recently in Park City."
The status of the concert was actually in doubt until late Monday afternoon because the promoters were talking with the Mitchell management and the concert was reported to be still a possibility.
Several stories came out from reliable sources that she or her management did not want to play Park City "because it was was not the place for her to appear."
It was also reported that she was ill and could not appear. However, this was disputed by sources who cited a contract clause which limits the number of days allowed prior to a concert for a performer to pull out without losing money. However, no official word on the reasons for the cancellation other than the United Bookings' statement was given.
2,500 tickets have been sold and the spokesman said they had expected up to 6,000 or more. Refunds will be made only at the outlets where the particular tickets were purchased. They will be available Tuesday morning.
More information will be available when United has a chance to talk more with Mitchell's management. "Joni Mitchell is a beautiful lady. She knows how I run a concert and what the situation is here. She has given a concert here before and the problems in this case have nothing to do with here." the spokesman said.