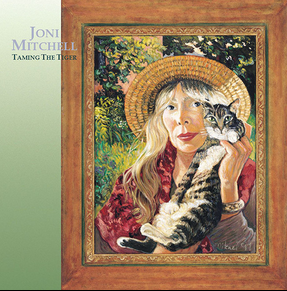 Taming the Tiger is markedly different than Joni's previous album, Turbulent Indigo. Where Turbulent Indigo is dark, intense, and enigmatic, and the lyrics largely topical, this one has a light, lyrical feel, the music shimmering and weightless, the lyrics more personal. Many critics regard it as Joni's best "latter day" album, perhaps because it's more accessible. I wouldn't go that far -- Turbulent Indigo and Night Ride Home are both better, in my view -- but Taming the Tiger is a solid album.
To me, the name of the album and the title track are self-referential -- Joni, the fierce and dangerous tiger is now a domestic house cat. But in every cat there lurks some tiger; after all, this is "taming", a process, not past tense.
The title song's refrain see-saws us from the house cat to the tiger and back, using bits from the William Blake poem to a new purpose.
Tiger tiger burning brightly
(You can't tame the tiger)
Oh, be nice kitty-kitty
Boring!
Tiger tiger burning brightly
Nice kitty-kitty
Fight to the light
Fight to the light
In the forest of the night.
Joni may be somewhat domesticated, no longer doing battle with the music industry, critics, and a string of suitors, but "nice kitty-kitty" still bores her. She still wants to fight through the night: she wants excitement, she wants passion.
Would a house cat begin a song with this?
"Kiss my ass, I said,
and I threw my drink...
Tequila trickling down
His business suit
That song, "Lead Balloon," is a flippant take on the familiar theme of Joni's dislike of the music industry. She sings:
An angry man is just an angry man,
But an angry woman...
Bitch!
The narrator "fights before [she] thinks". Then when she has to ask the man for help -- because it's "his town" -- that goes down like a lead balloon. Not Joni's finest songwriting, but the song itself is lively and fun.
On "Man From Mars", she laments a lost love, who was an alien creature among the rest of humanity.
Since I lost you...
I can't get through the day
Without at least one big boo-hoo
The pain won't go away
What am I to do?
She's hurting, but she's mocking her pain, too, calling her tears "a big boo-hoo" and lamenting "what am I to do?" like a soap opera actor.
"Face Lift" contains snippets of mockery, too, as she sings about conflict with her conservative upbringing and her mother's platitudes -- platitudes that she may have adopted. The album's sultry opener, "Harlem in Havana," also mentions that "Auntie Ruthie would have died if she knew we were on the inside". It's always interesting how those childhood realities stay with us our entire live
s, and how they inform art. My favourite track on Taming the Tiger is "Stay In Touch". Many critics point out that it seems to be about Joni's reunion with her daughter and the grandson she didn't know she had. But you know how I feel about music being "about" something. "Stay In Touch" certainly may have been inspired by these life-changing events, but a master songsmith like Joni Mitchell can't be defined by such a narrow frame.
Part of this is permanent
Part of this is passing
So we must be loyal and wary
Not to give away too much
Till we build a firm foundation
And empty out old habits
Joni's guitar is slow and plaintive, Wayne Shorter's soprano sax is mournful but not maudlin. The lyrics take a cliched phrase, something people say with barely a thought -- "we should stay in touch" -- and turns it into a meditation on the human need for connection. The song is so poignant, almost painful.
The arrangements on this album are delicate and ambient -- jazzy but not quite jazz. Joni's distinctive guitar and Shorter's sax form the predominant sound, but both take a back seat to Joni's vocals.
The album cover
This album art is a treasure trove of Joni paintings, and seems to be a series. There are images of paintings -- photographed with their frames -- on each page of the lyrics booklet, as well as on the CD.
France
In past "listening to joni" posts, I tallied references to cactus and stockings, which were recurrent symbols in Joni songs. This album revives another lyrical trend: Paris, or France. Of course two of her very well-known songs are "In France They Kiss On Main Street" and "I Was a Free Man in Paris". When I hear references to Paris and France, I think the place-names are associated with freedom and abandon, and the alternative to the staid, conventional life.
On Taming the Tiger, there is this refrain from "Love Puts on a New Face":
But in France they say
Everyday
Love puts on a new face
Love has many faces
Here, France is the place that understands love, the place we can look to for guidance about being in love.
In "Face Lift", she sings of a memory:
We pushed the bed up to the window
To see the Christmas lights
On the east bank across the steaming river
Between the bridges lit up Paris-like
This river has run through both our lives
Between these banks of our continuing delights
Bless us, don't let us lose the drift
You know, Happiness is the best facelift.
I can imagine a young Joan Anderson looking at the lights on the bridges over the South Saskatchewan River, imagining they were the lights of Paris.
In her own words
On the CD cover, after the lyrics and credits, are these dedications.
Special thanks to Fred Wallecki and Brian Blade For rekindling my desire to make music.
Thanks to everyone at the Daily Grill for the good food and the good cheer.
Thanks to Edwin and the parking gang for their friendliness and courtesy.
Thanks to Julie Larson for fighting for me and with me.
And special, special thanks to Kilauren and Marlin just for being in this world.
Co-writing credits
"Crazy Cries of Love" words by Don Freed.
"My Best To You" written by Gene Willadsen and Isham Jones.
Other musicians on this album
Bass, Larry Klein
Drums, Brian Blade
Sax, Soprano Sax, Wayne Shorter
Barker on "Harlem in Havana", Femi Jiya
Pedal steel, Greg Leisz
Low Lead Guitar, Michael Landau
Joni, in addition to guitar and vocals: guitar orchestra, keyboards, background vocals, bass ("Man from Mars", "No Apologies"), percussion ("My Best to You").
One album left in this blog series
This is the penultimate post in the Listening to Joni series! I'm not including compilations or anthologies, so unless Joni records some new music, there is only one more album to write about.
I've already purchased a copy of Joni Mitchell Archives, Volume 1, although I've only explored it a bit so far. I'm thrilled that Joni decided to open the vault. The package itself is impeccably designed.