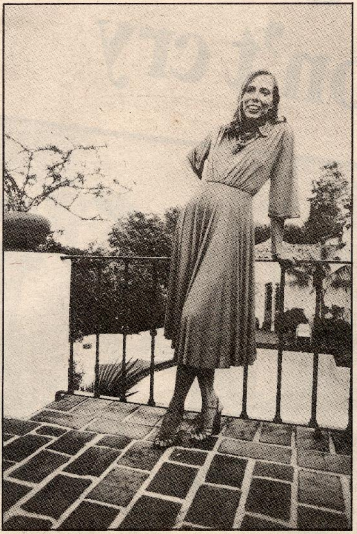 She sings of clouds and hissing summer lawns. Her favourite colour is green, a soft shade of green, and her hobby, painting, inspired by Picasso.
She takes beautiful photographs, defying all rules, coming up with delicate images in melting colours, which she then superimposes to create new pictures, reminiscent of her paintings.
Joni Mitchell is a very special lady of many talents. The words to her songs are not just that -- words -- but poetry, strong, haunting and sometimes vaguely disturbing.
Her songs are actually musical poems, so much so, that a critic in a recent review of her latest album advises his readers to "read the album first, then listen to it."
Joni has reached awe-inspiring semi-goddess status in the music world. Shrouded in mysteries, protected, rarely visible, she scares people a little. Is there a living person behind all that? Well, there is.
I met Joni last summer while she was working on the "Lawns" album. She is very much alive, loves to talk, to laugh, to sleep late in the mornings and work all night. She is a true nightbird.
Henry Lewy, the sound technician who has been with her for years, knows that she never stops before 3 a.m. when they are recording.
Joni is intense and knows what she wants and she doesn't relax until she gets it. Maybe being a Scorpio has something to do with it?
We are watching her through the soundproof glass window of the recording room. She is alone on the other side, singing into a microphone, eyes closed, moving to the beat of the music, looking fragile underneath over-sized earphones.
"Let's do that again," she says and turns to a piano by her side, trying out a few sound combinations, then singing them.
Joni is doing all the voices on the album, sometimes three and four overlays on a certain part of a song.
Then she comes in to listen to the track, concentrated, sipping a little red wine from a styrofoam cup, taking a puff from a cigarette, putting her head together with Henry's to discuss a technical detail, then turning to Red, an old friend, for his non-technical reaction.
There is a knock on the door and in walks George Harrison, who is recording in the studio next door (it's the A&M studio complex on La Brea Avenue in Hollywood).
"I just wanted to say hello," he says, and then a strange thing happens. Joni is suddenly shy and this shyness seems to be catching.
George seems at a loss for anything else to say. They smile.
He listens to the track, then sort of invites her to come to his studio and check out the last cut, before he exits.
What happened? Were they in awe of each other? Nobody else in the room said anything.
And because the atmosphere was so strange, I didn't even dare ask to take a photo of the two ... which I regret now, looking back. It might have broken the spell.
The next day Joni invites me to her house in Bel Air. It's a dream house, Spanish style, overlooking Los Angeles, with a big dark-blue pool, flowers and plants everywhere.
Chinese paper-dragon-fish hang by the doors, moving lightly in the breeze and real goldfish swim in a pond with water-lilies.
Muhammad Ali, the small white Persian cat with funny black-flecked face, is circling the edge of the pond, craning his neck.
"He got his name, because he is always boxing the flowers," Joni explains, then calls out "Hey get away from there, or you'll fall in again! We had to fish him out last week. I wonder if it's really the raccoons who decimate my fish population ..." she muses.
Joni is proud to show me something she has learned from a Chinese man: she turns a little wheel of bells, standing by the side of the pond and all the fish immediately congregate.
"It's not really their feeding time now, but I can't disappoint them," she says as she sprinkles some food into the water.
We wander through the garden -- Joni stops to pick a few lemons off her tree -- and down to the swimming pool, which perfectly reflects house and sky, all white and blue.
Joni, who grew up in the foothills of the Canadian Rockies, thinks that this will now be her permanent home.
"If nothing happens ..." she smiles. Her second house is in Canada, tucked away in a lovely secluded bay, but featuring every comfort imaginable, her hide-out. She personally helped build it and supervised the construction and interior decoration. Lady of many talents, indeed.
When she talks about her life (in her biography) it sounds like poetry again: "When I was two feet above the ground, I collected grass and cats. When I was three feet above, I discovered boys and bicycles.
"When I was five feet, I came to know rock 'n' roll and began to sing the Top Ten of the hit parade and vulgar military songs around campfires. Miles Davis appeared in my field of vision, and later many others, and Bob Dylan, Church choir, piano lessons, art studies, a marriage, runs in my stockings and always romance -- that was my life. Extreme temperatures and mirages."
Joni is tall and very slim. When she speaks or sings, she uses her hands to emphasize or accentuate. her big green eyes can see infinity.
She is a poetess who loves harmony, beauty, romanticism. Yet, both her feet are firmly planted on the ground of reality.
"I had to take piano lessons, when I was 6," she reminisces.
"That killed my interest in music for the first ... later I played Ukulele. Grades didn't mean a thing to me. In my work, fantasy was always more important to me than technique."
Joni taught herself to play guitar when she was 19.
"By ear and totally without a system" which resulted in the phenomenon that she could play, but other musicians, who had tuned their instruments according to conventional methods, couldn't play with her.
"It was much later that I finally learned how to read music," she confesses. "I use notes like colours, I paint with music to create a certain mood," Joni explains.
She writes about personal experiences, happenings, moments that trigger a series of images.
"When I know that I have to write a song for an album, I walk around with eyes and ears wide open, totally set on reception. Often it is a minor event that gives me the inspiration for complicated stories.
"My imagination gets a little push and everything else happens by itself."
We are pausing under a bougainvillea bush, covered with pretty purple-pink blossoms. Joni sits on a wall.
"I'd like to write a film script sometime," she says. "When I was younger, I used to write fairy tales. About the kingdom Fanta-Real, for example, where fantasy and reality bordered on each other.
"I love contrasts. I used to be more superstitious, more mystical, but now I live in and with reality.
"In 1968 somebody in the Village (Joni spent one year in New York, living in Greenwich Village) prophesied that I would one day be very famous. I thought he just wanted to be nice to me. I thanked him, but didn't believe a word.
"Meanwhile my life has totally re-oriented itself around one centre: music. It is in me and around me, always. I couldn't even have children (do I detect a wistful note in her voice?) because it would interfere with my work ... ."
She doesn't say anything for a moment, playing with the little beads she was worked into a knit vest, in greens and greys, representing the beach and the little things one encounters on it: bottles, shells, stones.
"There are so many songs as yet unwritten ... ."
Her boyfriend John Guerin (who plays drums in Tom Scott's band) appears and lovingly puts an arm around Joni, leading her away.
"Enough talk," he says, "you promised me a "revanche" game of backgammon! Then we'll have a cosy dinner before I let you go back to the studio." He winks at me.
"She is so independent that she sometimes likes a strong hand."
Joni says nothing, cuddles up to him and smiles. She is still smiling as they sit down at the backgammon table in front of the French window in the living room and John makes the first cast of the die.