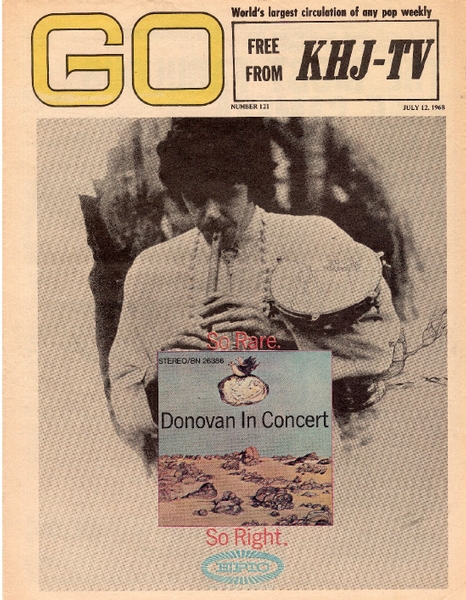 Just Joni onstage in a long purple robe with her long straight blonde hair gleaming in the soft lights focused on the stage of the Bitter End in Greenwich Village. Just Joni accompanying herself with an acoustic guitar while in a clear voice she sang her songs and the full house at the coffee house listened in quiet enchantment.
Before the release of Joni Mitchell's first Reprise album a small circle of hip people knew her from her appearances in small coffee houses and her songs like "The Circle Game" and "The Urge For Going". Her reputation was really underground.
Now, since the release of the album earlier this year, Joni is finally getting the attention she deserves, for she is certainly one of the most important songwriters on the scene. In a way, she reminds me just slightly of Donovan, for they both use words in a way that imparts a feeling of beauty and wonder.
There is almost a fairy-tale quality in the lovliness (sic) of many of her songs, but they are all very real and personal statements about her feelings, experiences and surroundings.
Onstage, she can be a fairy princess vulnerable in her delicate beauty or a woman who has lived and experienced life. Joni is a singer who takes her audience with her from the mountains to the sea in her songs.
Having worked in Detroit for two years. I saw Joni perform there before she made it. At the time, Detroit was her home. I hoped then that Joni would get the national exposure she deserved and now it looks as if 1968 will be the year of Joni Mitchell.
Bunky and Jake shared the bill with Joni during her three-week run at The Bitter End. I see so many new acts that it is very difficult for me to really flip over anyone unless they are absolutely super. I flipped over Bunky and Jake.
The duo stand out as one of the most original new and creative acts on the pop scene. Their style is dynamic and their material fresh. Pick up on their Mercury album and you'll get a good taste of what Bunky and Jake can do.
Speaking of excitement onstage, Sam and Dave walked off with all the honors in that department at Atlantic and NATRA's giant "Soul Together" held at Madison Square Garden.
The two have always been among the great R&B acts, but their new 13-piece band make them number one. The whole band go through precision dance routines that would put the Rockettes to shame. Sam and Dave always did great dances onstage themselves, but now, backed by this amazing band, no one can beat them.
No need to tell you how good Sam and Dave sound. They know how to put down soul like very few other performers. All I can tell you is that if Sam and Dave are appearing anywhere near where you live, make sure you are first on line to see them.
Life magazines's recent feature about "the new rock" had marvelous pictures and an amusing piece written by Frank Zappa. Otherwise it fell flat on its glossy face, trying too hard to be hip.